Theologiae vere Christianae apologia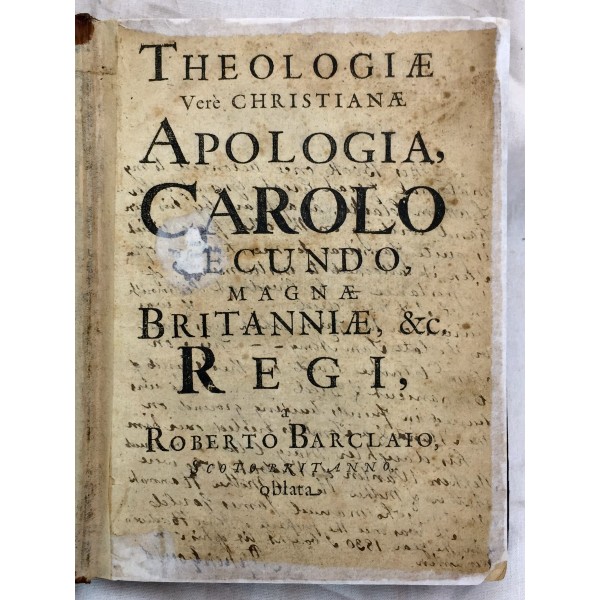 Theologiae vere Christianae apologia
Roberti Barclaii; Robert Barclay
Amsterdam: Typis excusa pro Jacob Claus, 1676.
First edition of Barclay's Apology for the True Christian Divinity. Collated: [24], 378, [25] pages. Contemporary calf, Cambridge style, raiased bands, modern red leather spine label. Rehinged and rejointed, lacking front flyleaf, scattered toning and foxing throughout. Owners signature of Latham Clarke, 1676 on title page.
Robert Barclay was one of the most famous exponents of the Society of Friends. Barclay wrote in a time when Friends were facing serious persecution and potential destruction. "Robert Barclay made Quaker thinking logically defensible when the movement was only about a quarter of a century old. Some think he saved it from extinction." (Graves, Robert Barclay, Champion of Quaker Ideal). "The Apology remains the classic statement of Quaker principles." ODNB; Smith I, 182. "This early and enduring exposition of Quaker beliefs defined Quakerism as a religion of the 'inner light.' Arguing against both Roman Catholicism and traditional Protestantism, including Anglicanism, Barclay asserted that neither the church nor the Scriptures could claim completeness or ultimate authority and that both were secondary to the work of the Holy Spirit, "the Inner Light" in the believer." See: Copeland, Paul. "Robert Barclay : Who He Was and Why He Matters. Part 1," The Australian Friend, 1206 June 2012, Issue. Refs: Evans 10950; Wing B-736A.
Long note from Stephen Gould, dated 1830, on proceeding page. Gould's note partially bleeds through to the half title. Gould writes that this book belonged to his maternal great, great grandfather, Latham Clarke (who lived in Portsmouth, Newport RI). Latham Clarke (1645-1719) was the son of Capt. Jeremiah Clarke, a Quaker governor of Rhode Island (served 1648) and the brother of another Rhode Island governor. He goes on to give additional genealogy and history of who owned this book. (After Latham Clarke, his son Samuel Clarke (1686-1714), then his daughter Mary Clarke (b. 1715), who married Stephen Wanton of Newport. The book then passed to Hannah Wanton, Mary's daughter (who married James Gould). Stephen Wanton Gould (1781-1838) was a Quaker clockmaker in Rhode Island. Gould published extracts from the records of monthly meetings, 1676-1707, held by Rhode Island Quakers.