The Works of Jeremy Bentham (11 volumes)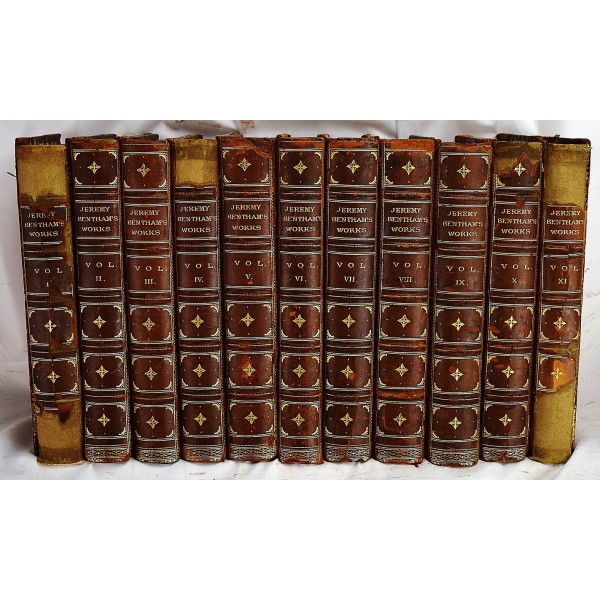 The Works of Jeremy Bentham (11 volumes)
Jeremy Bentham; John Bowring
Edinburgh : W. Tait ; London : Simpkin, Marshall, 1843
First collected edition of the writings of Jeremy Bentham. 11 volume set. Bound in contemporary 3/4 leather over marbled boards. Gilt stamped spine compartments. Hinges weak, with a number of the boards detached. Two volumes have loss to spines. Marbled edges and end pages.
Jeremy Bentham was a radical English philosopher and legal and social reformer, best known as the father of utilitarianism. He advocated for individual and economic freedoms, the abolishment of slavery, the abolishment of capital punishment, for animal rights, the separation of church and state, freedom of expression, equal rights for women, the right to divorce, and the decriminalizing of homosexual acts. His friend and fellow radical John Bowring edited Bentham's writings after his death. Bentham's writing had wide influence and he can be rightly seen as one of the founders of modern liberal thought. Provenance: Bookplate and stamps of William Whiting (1864-1936). Whiting served as Secretary of Commerce in the Coolidge administration Refs: Kress C.6008; Einaudi 409.
Brand new. Clean, unmarked pages. Fine binding and cover. Hardcover. Ships daily.