The Works of Douglas Jerrold: In Five Volumes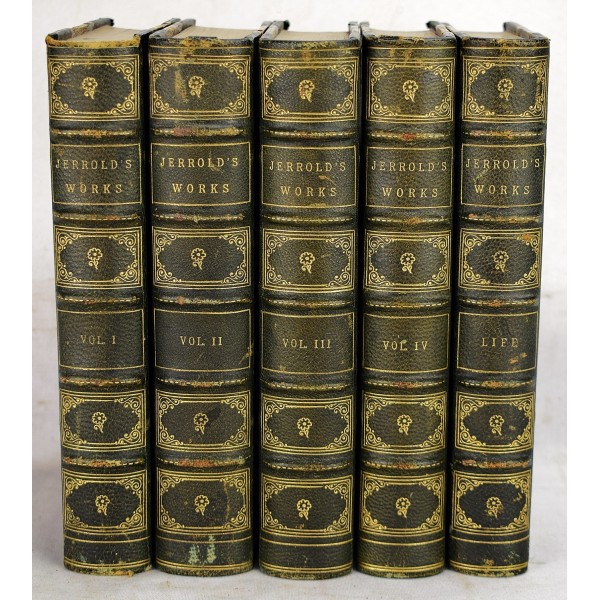 The Works of Douglas Jerrold: In Five Volumes
Douglas Jerrold
Bradbury, Agnew & Co, 1869
[Fine Bindings] 5 volume set. Bound in handsome 3/4 navy morocco over red, white and blue marbled boards. Gilt ruled covers, gilt spine compartments. 5 raised bands. Top edge gilt. Marbled end sheets. Engraved bookplate of Francis A. Gaskill (1846-1909).
Contents: Contents: v. 1. St. Giles and St. James, and Punch's letters to his son.--v. 2. The story of a feather, and cakes and ale.--v. 3. Mrs. Caudle's Curtain lectures, Men of character, and Punch's complete letter writer.--v. 4. A man made of money, Sketches of the English, The chronicles of Clovernook, and The Sick giant and the doctor dwarf.--v. 5. Memoir by W. Blanchard Jerrold.
Rather nice description of Gaskill's bookplate from the Boston Athenaeum: "Central panel with interior view of a library containing bookshelves, desk, and fireplace; surrounded by a frame of architectual elements, a portion of which was inspired by Horace Walpole's chimneypiece or mantle in the Round Drawing Room at Strawberry Hill ; name in panel at foot." Ref: Goodspeed, C.E. Sidney Lawton Smith, 96.
This is an oversized or heavy book, which requires additional postage for international delivery outside the US.