The Workes of Our Antient and Learned English Poet Geffrey Chaucer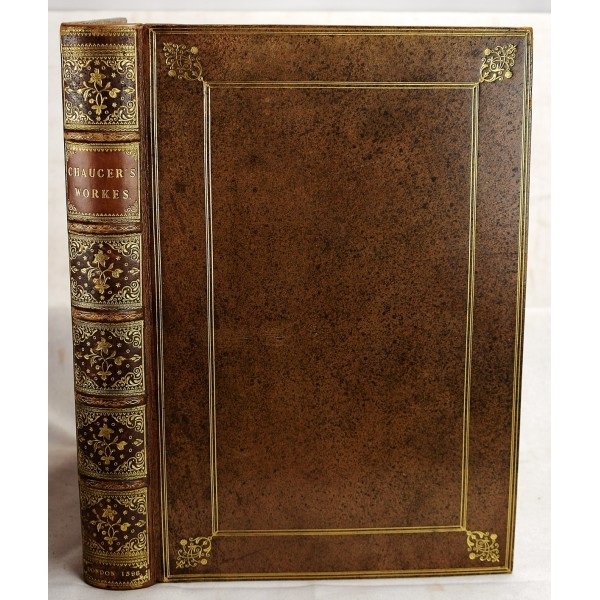 The Workes of Our Antient and Learned English Poet Geffrey Chaucer
Geoffrey Chaucer; Thomas Speght
London : printed by Adam Islip, at the charges of Bonham Norton, 1598
[The Elizabethan Chaucer: An important early English printing that helped establish Chaucer in the English literary pantheon] Folio, 31 cm. Fine binding by Riviere. Gilt spine compartments, gilt ruled cover. Gilt dentelle and turn downs. Attractive and professional reback. All edges gilt. Marbled end sheets. Printed in black Letter, in double column. Frontispiece portrait of "the Progenie of Geffrey Chaucer" engraved by John Speed. Letterpress title with woodcut borders. Additionally, "The Canterbury tales", "The romaunt of the rose", and "The story of Thebes" have engraved divisional titles; the foliation and register are continuous. Lacking leaves b1, ppiii and iiii, and the final 6 leaves, 4b iii-vii. Contemporary marginalia throughout, in a near contemporary hand. "In this impression you shall find these additions. 1. His portraiture and progenie shewed. 2. His life collected. 3. Arguments to euery booke gathered. 4. Old and obscure words explaned. 5. Authors by him cited, declared. 6. Difficulties opened. 7. Two bookes of his, neuer before printed." Refs: STC 5078. Pforzheimer 177. Luborsky & Ingram. A Guide to English Illustrated Books, 1536-1603, 5078.
Provenance: Lord Wardington's copy. Signatures of W. Featherstonhaugh (possibly George William Featherstonhaugh) and Sir John William Pease (1869-1950, First Baron Wardington Armorial bookplate and signature, Newcastle). Most recently by descent of Lord Wardington; sold in Sotheby's London, July 13th 2006 sale, lot 62.
Cataloguer's note: The first of Thomas Speght edition of Chaucer's works, one of three editions printed in 1598 (the others by Adam Islip). This edition contains the first "life of Chaucer" to appear in English. The two additional works printed are: "The Floure and the Leafe" and "Chaucer's Dreame," these are spuriously attributed to Chaucer.