The Waverley Novels. (21 volume set)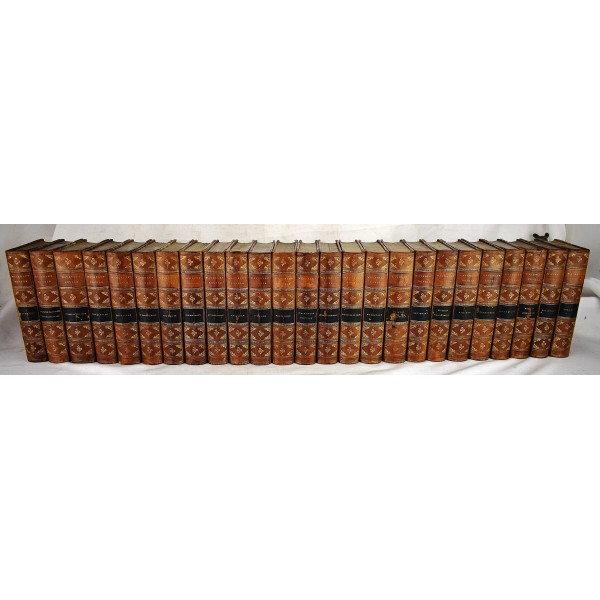 The Waverley Novels. (21 volume set)
Sir Walter Scott
Boston: James Osgood, 1869
[Fine binding] 21 volumes. Bound in contemporary 3/4 polished calf over marbled boards. All edges marbled. Gilt spines, with morocco spine labels. Marbled end sheets. Each title has separate engraved title-page. Illustrations throughout. Clean, unmarked pages. Contemporary bookplate of J. Edward Farnum (Princeton Class of 1890).
Contents: v. 1. Waverley.--v. 2. Guy Mannering.--v. 3. The antiquary.--v. 4. Rob Roy.--v. 5. Old mortality.--v. 6. The black dwarf. A legend of Montrose.--v. 7. The heart of Mid-Lothian.--v. 8. The bride of Lammermoor.--v. 9. Ivanhoe.--v. 10. The monastery.--v. 11. The abbot.--v. 12. Kenilworth.--v. 13. The pirate.--v. 14. The fortunes of Nigel.--v. 15. Peveril of the Beak.--v. 16. Quentin Durward.--v. 17. St. Ronan's well.--v. 18. Redgauntlet.--v. 19. The betrothed. The Highland widow.--v. 20. The talisman, etc.--v. 21. Woodstock.--v. 22. The fair maid of Perth.--v. 23. Anne of Geierstein.--v. 24. Count Robert of Paris.--v. 25. The surgeon's daughter. Castle dangerous. Index. Glossary.
N.D., Printed date circa: 1869, 1870, 1871, 1872. <br> This is an oversized or heavy book, which requires additional postage for international delivery outside the US.