The Treasury of the Siphnians at Delphi. Studies in the History and Criticism of Sculpture, Volume IV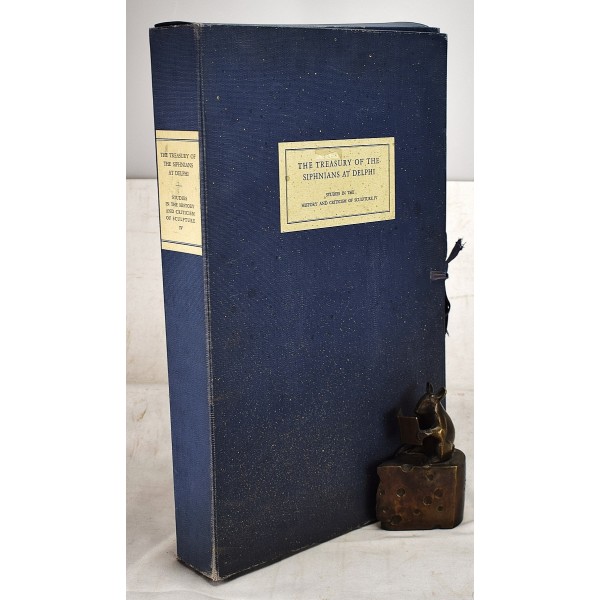 The Treasury of the Siphnians at Delphi. Studies in the History and Criticism of Sculpture, Volume IV
Clarence Kennedy; American School at Athens
Northampton, MA : Smith College, 1929
[Antiquity depicted in early photographs] Extremely rare, super-limited edition of only 57 copies. Blue cloth solander case, with mounted printed label. Spotting on front cover. Plates sound and clean. Contains 67 mounted original, gelatin silver prints mounted "on Athena Paper, manufactured by the Eastman Kodak Company. The type was prepared at the Harvard University Press, Cambridge, Massachusetts. Of this volume fifty-seven copies have been printed, of which this is number 17."
From the Dictionary of Art Historians, Clarence Kennedy: "studied at American School of Classical Studies, Athens, where he became fascinated with photo documentation of monuments in which the School was engaged. In Athens he received special instruction on cleaning sculpture from the archaeologist Franz Studniczka." He went on to serve as the Chair of Smith's Art Department.
This is an oversized or heavy book, which requires additional postage for international delivery outside the US.