The Times Weekly Edition (The London Times newspaper, original issues bound in folio, Vol. XXXVIII. No. 1,960 – Vol. XLIII. No. 2243) (July, 1914 - December 1919; approximately 283 weekly issues) (11 volumes)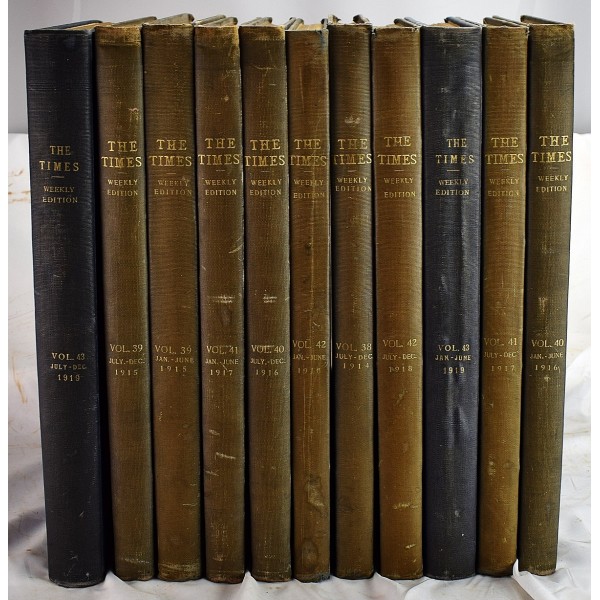 The Times Weekly Edition (The London Times newspaper, original issues bound in folio, Vol. XXXVIII. No. 1,960 – Vol. XLIII. No. 2243) (July, 1914 - December 1919; approximately 283 weekly issues) (11 volumes)
Times Weekly Edition
London : F. Goodlake; Times Weekly Edition, 1914
[World War I London Newspaper] Massive run of approximately 283 weekly issues from July, 1914 - December 1919 (Vol. XXXVIII. No. 1,960 - Vol. XLIII. No. 2243). Bound in 11 volumes in blue buckram cloth. Folios, 48 cm (18 x 12 inch). Bindings sound. Spines sunned, some minor stains to outer covers. Original issue's pink/orange wraps bound in. Contains a multitude of maps, drawings, ads, photographs, etc. Internally clean, unmarked pages, in excellent condition. Pages are not brittle or flaking, much better than expected. Bound by Wood Law Book Company, 99 Maiden Ln. New York City. Note: I have not collated this set, due to the extreme size.
A fascinating and massive set containing the years of the Great War and the treaty of Versailles as seen from London. The Times Weekly Edition was printed every Friday. The papers contain a chronicle of the beginning of the war, its great battles, colonial action, foreign affairs, aggressive moves by Japan, American intervention, the situation in Ireland, the collapse of great empires (German, Russian, Ottoman, and Austro-Hungarian), "the Reds" in Russia, the ultimate defeat of the Central powers, and the peace process. Includes an 8 page illustrated section devoted to "London's Great Peace Celebration Procession" in July, 1919.
This is an oversized or heavy book, which requires additional postage for international delivery outside the US.