The Physical Theory of Neutron Chain Reactors (Interesting Provenance)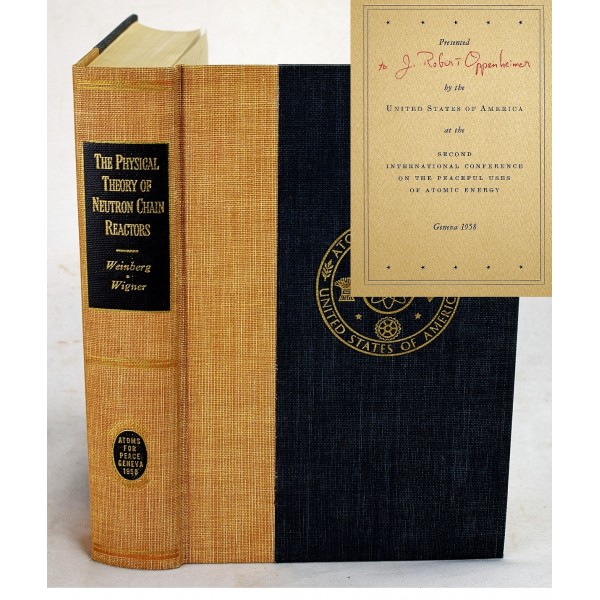 The Physical Theory of Neutron Chain Reactors (Interesting Provenance)
Weinberg, Alvin M.; Wigner, Eugene P.
The University of Chicago Press, 1958
[Presentation copy to J. Robert Oppenheimer.] Gold seal of the "Atoms for Peace," program on front. "Presented to J. Robert Oppenheimer by the United States of America at the Second International Conference on the Peaceful Uses of Atomic Energy, Geneva 1958."
Presentation "Atoms for Peace" Binding. Hardcover. Fine binding and cover. Clean, unmarked pages. 801 pages : illustrations ; 24 cm.
The first nuclear reactor textbook. Presented to Robert Oppenheimer. Oppenheimer was one of the most famous American scientists of the mid-20th century. He directed weapons development of the Manhattan Project and served as director of the Los Alamos Laboratory. He subsequently served as an advisor to the Atomic Energy Commission. In 1954 during the Red Scare his security clearance was revoked due to perceived leftist sympathies and his opposition to the development of the Hydrogen bomb.
Both Wigner and Weinberg worked with Oppenheimer on the Manhattan project. Wigner was directly responsible for the meetings that set into motion the development of the bomb, as described by Richard Rhodes in his book: "The Making of the Atomic Bomb." They served as the administrators at Oak Ridge National Laboratory. Eugene Wigner also won the Nobel Prize for Physics, 1963. It is interesting that Oppenheimer was given this book five years after the hearings that effectively ended his government service. Oppenheimer's reputation would go on to partial rehabilitation under Presidents Kennedy and Johnson.