The Most Delectable History of Reynard the Fox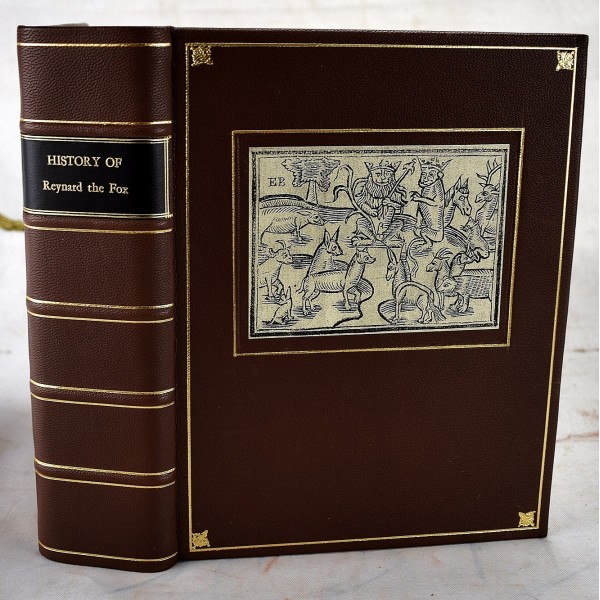 The Most Delectable History of Reynard the Fox
Edward Brewster; John Shirley
by A.M. and R.R. for E. Brewster, 1681
3 parts, bound in one. Housed in fine moroccan clamshell case. Small 4to, 19 x 14 cm. Rebacked, with modern leather spine. The contemporary calf boards are conserved. Gilt ruled. Numerous woodcut illustrations by Edward Brewster. Partially printed in black letter. Each section has an individual title page, with a different printer and date: "The Most Delectable History of Reynard the Fox, T. Ilive, for Edward Brewster, 1701"; "The most pleasant and delightful history of Reynard the Fox, the second part, A.M. and R.R. for E. Brewster, 1681"; and "The shifts of Reynardine, T.J. for E. Brewster, and T. Passenger, 1684."
Armorial bookplate of the Dogmersfield Library (Sir Henry St. John Mildmay's library was auctioned by Sotheby's in 1907). (Sir Henry St. John Mildmay, 1791-1845).
Refs: Graesse VI, page 85; Brunet IV, p. 1228; Menke, Biblioteca Reinardiana 24, 18 & 21; Wing S3513 (part II); Wing S3436 (part III).
"Reynard the Fox was a hero of several medieval European versified cycles of animal tales that satirize contemporary human society. Though Reynard is sly, amoral, cowardly, and self-seeking, he is still a sympathetic hero whose cunning is a necessity for survival. He symbolizes the triumph of craft over brute strength, usually personified by Isengrim, the greedy and dull-witted wolf. Some of cyclic stories collected around him, such as those telling of the wolf or bear fishing with his tail through a hole in the ice, are found throughout the world; others, like that of the sick lion cured by the wolf's skin, are derived from Greco-Roman sources. The cycle arose in the area between Flanders and Germany in the 10th and 11th centuries when clerks began to forge Latin beast epics out of popular tales." (Merriam-Webster's Encyclopedia of Literature). "In 1671 Brewster gave a new lease of life to the old picture cycle, and in 1672 he grafted new life onto the old story with A Continuation, Or Second Part Of The Most Pleasant and Delightful History of Reynard the Fox. In due course, this new story about Reynard was to attract new illustrations, but in this volume Brewster makes do with a sprinkling of fifteen cuts from his new cycle bearing the initials EB, and he uses them again in his 1676 edition of the old story (now called Part One) and in his 1681 edition of both Part One and Part Two. In 1684 Brewster marketed a further sequel to this Continuation. Since Reynard was dead the chief role in this new story is given to one of his sons, the one called Reynardine. It is entitled The Shifts of Renardine The Son of Reynard the Fox." - Kenneth Varty, Reynard, Renart, Reinaert and Other Foxes in Medieval England, 1999, pp. 254-257.