The Laws of Maryland: To which are Prefixed the Original Charter, with an English Translation, the Bill of Rights and Constitution of the State, as Originally Adopted by the Convention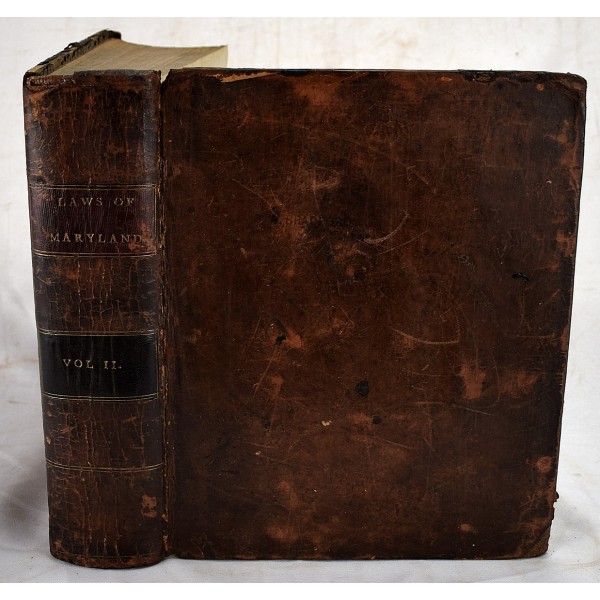 The laws of Maryland : to which are prefixed the original charter, with an English translation, the bill of rights and constitution of the state, as originally adopted by the convention, with the several alterations by acts of Assembly, the Declaration of Independence, the Articles of Confederation, the Constitution of the general government, and the amendments made thereto, with an index to the laws, the bill of rights, and the constitution (Volume 2 only)
Maryland. General Assembly; William Kilty; William Smallwood
Annapolis: Frederick Green, 1800
Volume II only. Bound in contemporary full calf, with red and black spine labels. Solid binding and coer. (ii) (viii) (978) pages. Dampstaining along bottom edge at start of the volume. Evans 37894.
The first full compendium of Maryland laws subsequent to the colonial governments, published by authority of the legislature. One notable Act from this volume is the establishment of the "University of Maryland." While called the University of Maryland, this Act appears to have established present day St. Johns College in 1784.
Early Maryland signature of Zeb (Zebulon) Hollingsworth (Jr. 1761 - 1836, of Elkton, Cecil Co, MD). Hollingsworth served as an Associate Judge for the Baltimore County Court, 1806-1816. Later stamp of S.F. Bradford. (Presumed to be Samuel Bradford, father of the Civil War-era governor of Maryland.