The History Of The World. In Five Bookes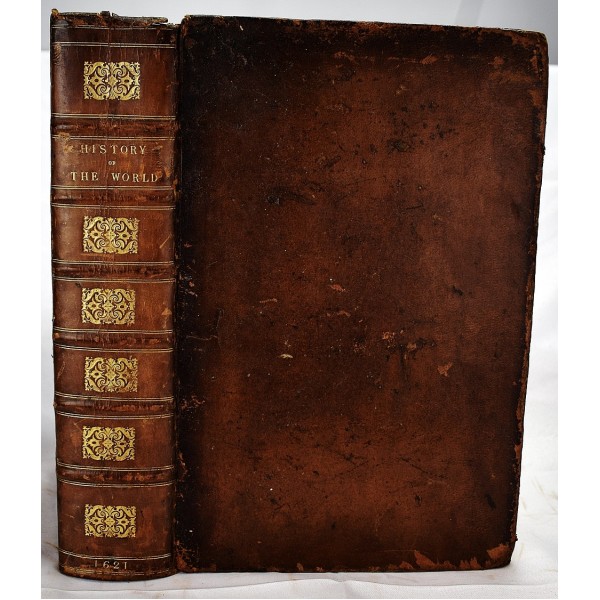 The History Of The World. In Five Bookes
Walter Raleigh, Sir; RALEGH
London : Printed by William Iaggard [, William Stansby, and Nicholas Okes] for Walter Burre, and are to be sold at his shop in Paules Church-yard at the signe of the Crane, 1621
Folio, 33 x 22 cm. 3rd ed. Printed by William Jaggard for Walter Burre, 1621.  Bound in full contemporary calf.  7 spine compartments.  Gilt ruled. Some rubbing / minor wear to cover. Solid binding. Engraved portrait of Raleigh on title.  Collated: [66], 184, 181-555, [1], 510, 515-669, [55] pages, [5] plates: genealogical tables (woodcuts), maps.  Minor worming through first 60 pages. Some damp staining to upper margin of pages affecting some text.   Armorial book plate of William Durning Hole. 
Raleigh wrote, "The History of the World" while imprisoned by James I in the tower of London.  It was initially intended to serve as an educational tool for Henry, Prince of Wales. Henry died in 1612, forcing Raleigh to bring the project to conclusion. Raleigh was only able to complete the first volume, from the beginning of history to 130 B.C. (the rise of Rome). The Historie covers the rise and fall of the three great empires of Babylon, Assyria and Macedon, and deals with the most flourishing periods of Jewish, Greek and Roman history. However, the work was cynical and held monarchs throughout history in contempt, leading copies being seized and the publication banned under authority of James I. "The success of Raleigh's History can perhaps be explained by the very fact that it is not a work of history in the academic sense but a political tract of immediate applicability. Its author embodied all the glories of the reign of Elizabeth I, which at the time of publication had already begun to be transfigured into a golden age, Raleigh can be taken as the epitome of the Elizabethan idea of courtier and politician, sailor and explorer, writer and poet. (PMM 117). 
  Contents: 1. Intreating of the Beginning and first Ages of the same from the Creation unto Abraham. 2. Of the Times from the Birth of Abraham, to the destruction of the Temple of Salomon. 3. From the destruction of Jerusalem, to the time of Philip of Macedon. 4. From the Reigne of Philip. to the establishing of that Kingdome, in the Race of Antigonus. 5. From the settled rule of Alexanders successors in the East, untill the Romans. made Conquest of Asia and Macedon. 
STC 20639