The Golden Bough: A Study in Magic and Religion (16 Volumes, Signed, Association Copy)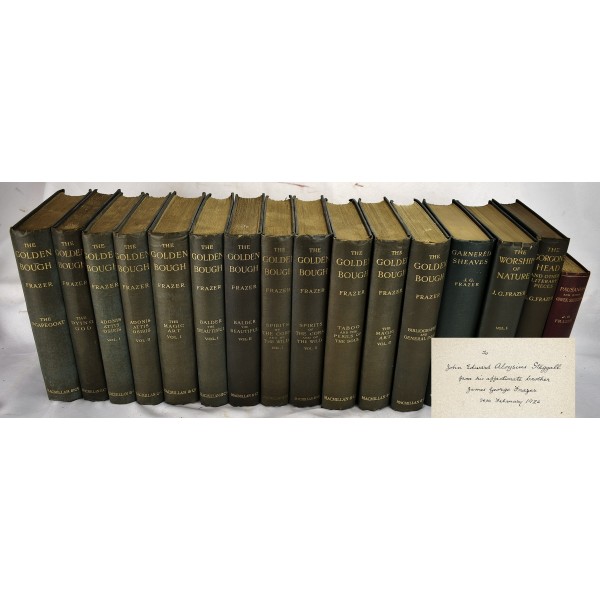 The Golden Bough: A Study in Magic and Religion (16 Volumes, Signed, Association Copy)
Frazer, James George
Macmillan, 1926
[Presentation copy, inscribed by the author, James George Frazer to his brother, John Edward Aloysius Steggall] 16 volume set. (13 volumes of the Golden Bough + 2 additional volumes) Bound in publisher's green cloth. Hardcover. Top edges gilt. Good bindings and covers. Clean, unmarked pages.
Contents: The Magic Art and the Evolution of Kings (Parts 1 & 2); Taboo and the Perils of the Soul; The Dying God; Adonis Attis Osiris (Parts 1 & 2); Spirits of the Corn and of the Wild (Parts 1 & 2); The Scapegoat; Balder the Beautiful (Parts 1 & 2); Bibliography and General Index; Aftermath (Supplementary Volume). Includes three additional volumes by Frazer: Pausanias and other Greek Sketches, 1900; Garnered Leaves, 1931; and The Gorgon's Head and Other Literary Pieces, 1927.
Frazer's wide-ranging analysis of comparable religion and mythology of the world traces and unifies religious beliefs.
John Edward Aloysius Steggall was Frazer's brother-in-law and a noted Scottish mathematician in his own right.
This is an oversized or heavy set, which requires additional postage for international delivery outside the US. *Autographed by author in 1926.* Includes related ephemera, a review from 1926 (from the author?)