The Complete Earthsea series in 6 volumes (All Signed by Ursula K. Le Guin)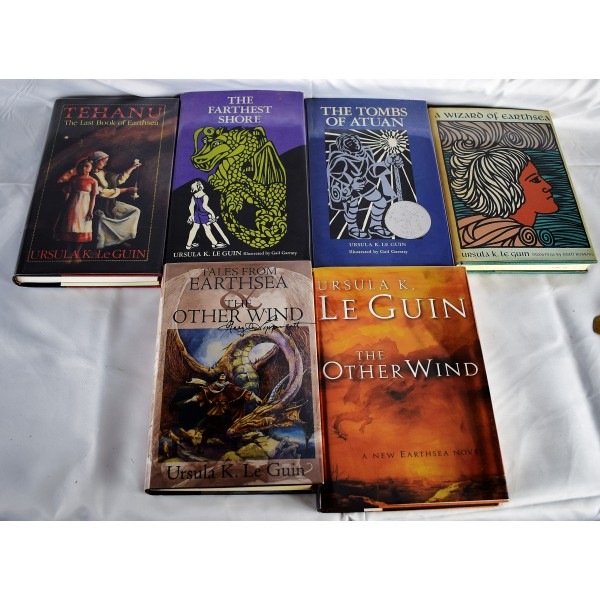 The Complete Earthsea series in 6 volumes (All Signed by Ursula K. Le Guin)
Ursula K. Le Guin
Parnassus; Atheneum; Harcourt, 1968
6 volume set of the Earthsea Cycle.  All volumes are signed or inscribed by Le Guin. 
Includes: 1) A Wizard of Earthsea, laid in Ursula Le Guin signature, 1st printing, Parnassus, 1968;
2) The Tombs of Atuan, inscribed on half title, 4th printing, Atheneum, 1974;
3) The Farthest Shore, laid in signature, 1st ed., Atheneum, 1972;
4) Tehanu, flat signed, 2nd printing, Atheneum, 1990;
5) Tales from Earthsea, laid in signature, 1st printing, Harcourt, 2001;
6) Other Wind, flat signed, 1st ed., Harcourt, 2001.
All volumes dust jackets in mylar covers.   Hardcovers.  Very good bindings and covers.  Additional notes: The Wizard of Earthsea's dust jacket spine is browned, is not clipped and, stated "11 up", without pre-printed price.  Very small stain on bottom edge of the Farthest Shore.  Refs: Currey, p. 305.  "The magic of Earthsea is language-driven: Wizards gain power over people and things by knowing their "true names." Ms. Le Guin took this discipline seriously in naming her own characters. "I must find the right name or I cannot get on with the story," she said. "I cannot write the story if the name is wrong. The Earthsea series was clearly influenced by J. R. R. Tolkien's "The Lord of the Rings" trilogy. But instead of a holy war between Good and Evil, Ms. Le Guin's stories are organized around a search for "balance" among competing forces - a concept she adapted from her lifelong study of Taoist texts." - Gerald Jones, NYT, JAN. 23, 2018, B15.