The Collected Works of Bernard Shaw. Ayot St. Lawrence Edition. (30 Volumes)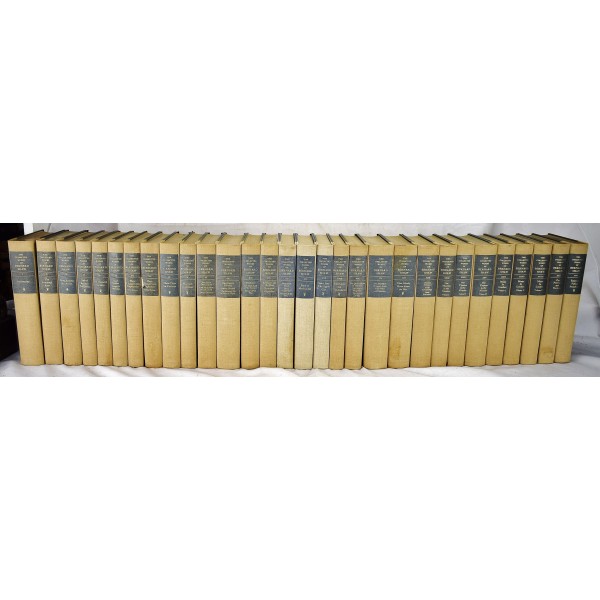 The Collected Works of Bernard Shaw. Ayot St. Lawrence Edition. (30 Volumes)
SHAW, George Bernard.
Wm. H. Wise, 1930
30 volume set. Handsome, Near fine. Limited edition of 1790 numbered copies. Original quarter beige cloth over blue boards, blue spine labels. Top edge gilt. Hardcover. Good binding and cover. Clean, unmarked pages.
Contents: 1. Immaturity.--2. The irrational knot.--3. Love among the artists.--4. Cashel Byron's profession.--5. An unsocial socialist.--6. Short stories: Scraps & shavings.--7. Plays pleasant and unpleasant; the first volume containing the three unpleasant plays.--8. Plays pleasant and unpleasant; the second volume containing the four pleasant plays.--9. Three plays for puritans: The devil's disciple. Caesar and Cleopatra. Captain Brassbound's conversion.--10. Man and superman.--11. John Bull's other island. How he lied to her husband. Major Barbara.--12. The doctor's dilemma. Getting married. The shewing-up of Blanco Posnet.--13. Misalliance. The dark lady of the sonnets. Fanny's first play.--14. Androcles and the lion. Overruled. Pygmalion.--15. Heartbreak house. Great Catherine. Playlets of the war.--16. Back to Methuselah.--17. Saint Joan. The apple cart.--18. Translations and tomfooleries.--19. The quintessence of Ibsenism. The perfect Wagnerite. The sanity of art.--20. The intelligent woman's guide to socialism and capitalism.--21. What I really wrote about the war.--22. Doctor's delusions. Crude criminology. Sham education.--23.-25. Our theatres in the nineties; criticisms contributed week by week to the Saturday review from January 1895 to May 1898.--26.-28. Music in London, 1890-94; criticisms contributed week by week to The world.--29. Pen portraits and reviews.--30. Essays in Fabian socialism.
This is an oversized or heavy book that requires additional postage for international delivery outside of Canada and the US.