The Bosphorus and the Danube Illustrated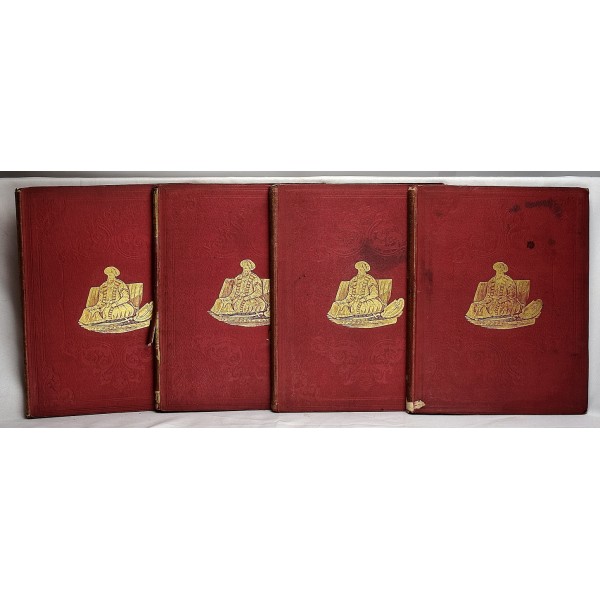 The Bosphorus and the Danube Illustrated
W H Bartlett; William Beattie; Julia Pardoe
[London] : [Virtue], [1839?-44?]
8 volumes, bound in 4. Quartos. Bound in publisher's handsome red cloth, with gilt image of a seated Ottoman on front and Neptune on rear. All edges gilt. Held in mylar cover. Some chipping to the spine, with loss to one of the volumes. Plates generally clean, with tissue guards. Only occasional minor spotting. Two of the volumes have minor dampstaining from the outer margin for the first few pages, including the plates.
Includes: v. 1-4. The beauties of the Bosphorus, by Miss Pardoe, from drawings by W.H. Bartlett. [1839?]; v. 4-8. The Danube, by W. Beattie, illustrated in a series of views taken expressly for this work by W.H. Bartlett. [1842?-44?]. Includes mounted statement: "The subscribers are respectfully informed that the Publishers originally intended to complete this Work in Forty-two Parts ... but they find that the numerous Wood Engravings which have been introduced into Dr. Beattie's interesting description of the Danube, have had the effect of extending the letter-press considerably beyond the limited to which they proposed to confine the Work. They have therefore decided upon completing it with a Supplement, forming Part 43 of the Series. This Part with contain Four Steel Engravings and Eighty pages of letter-press, including the Titles and Lists of Plates necessary to complete the Two Volumes."
This is an oversized or heavy book, which requires additional postage for international delivery outside the US.