The Astronaut's Library : Men From Earth, Moon Shot, Lost Moon, Countdown, Schirra's Space, We Seven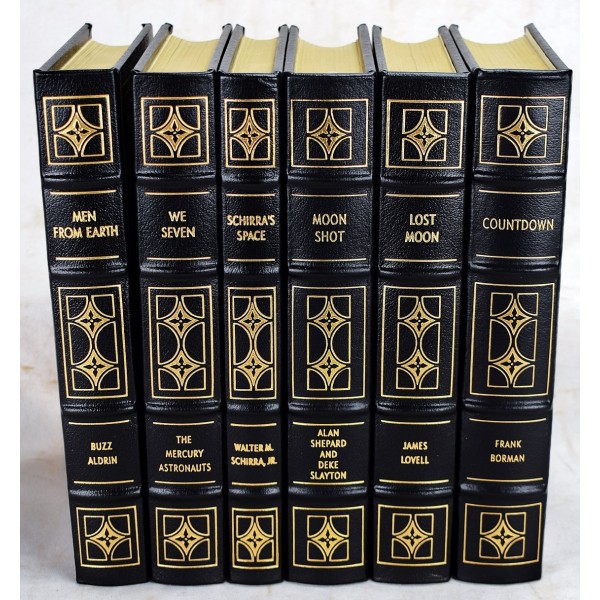 The Astronaut's Library : Men From Earth, Moon Shot, Lost Moon, Countdown, Schirra's Space, We Seven
Buzz Aldrin and Malcolm McConnell, Alan B. Shepard and Deke Slayton, James Lovell and Jeffrey Kluger, Frank Borman; Robert J Serling; Walter Schirra; Richard Billings; Scott Carpenter; Gordon Cooper, John Glenn.
Easton Press, 1997
[An Astronomic Set, signed by stellar luminaries, in a fine binding.] 6 volume set. Title include: Men From Earth, signed by Buzz Aldrin; Moon Shot: The Inside Story of America's Race to the Moon, signed by Alan B. Shepard; Lost Moon: The Perilous Voyage by Apollo 13, signed by James Lovell; Countdown: An Autobiography, signed by Frank Borman; Schirra's Space, signed by Walter Schirra; We Seven, by the Astronauts Themselves, signed by Scott Carpenter, Gordon Cooper, and John Glenn. Bound in full black leather. Stamped with gold gilt design on cover front, back and spine. All edges gold. Silk moire fabric end papers. Satin ribbon place holder. Fine binding and cover. Clean, unmarked pages. For more than 30 years, the Easton press has been the standard for finely bound, profusely gilt classic leather bindings.
Collector's Edition, limited edition of 3000 copies.
This is an oversized or heavy book, which requires additional postage for international delivery outside the US.