Studies on Voltaire and the Eighteenth Century (17 volume set)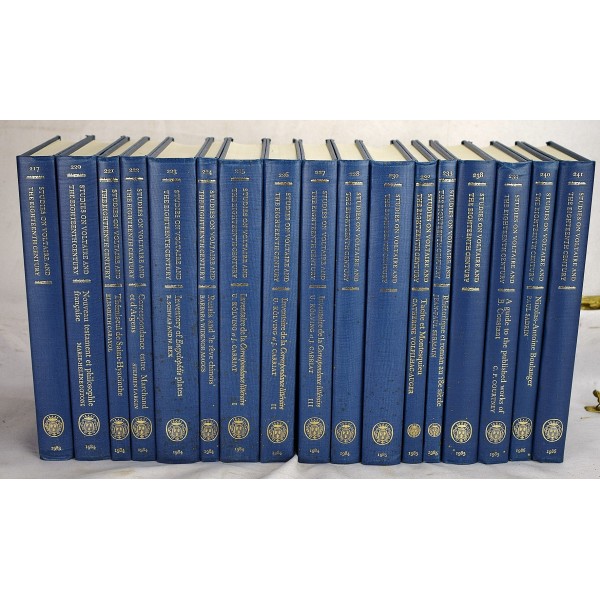 Studies on Voltaire and the Eighteenth Century (17 volume set)
Catherine Volpilhac-Auger; Merle L. Perkins; Ulla Kolving; Jeanne Carriat; Richard Schwab; Walter E. Rex; Barbara Widenor Maggs; Marie-Helene Cotone; John Feather; Paul Sadrin; C.P. Courtney; Stephen Larkin; Elisabeth Caravol; Anne Molet-Sauvaget
The Voltaire Foundation, 1983
17 volume set, printed 1983-1986. Bound in publisher's blue cloth. Gilt lettering. Hardcover. Good bindings and covers. Minor shelf wear. Generally clean. Light spotting to some edges. Contents: 217. Fifth Anglo-French Colloquium; 220. Nouveau Testament et Philosophie Francaise; 221. Themiseul De Saint-Hyacinthe; 222. Correspondance Entre Marchand et D'Argens; 223. Inventory of Encyclopedie Plates; 224. Russia and le Reve Chinois; 225. Inventaire de la Correspondance Litteraire (Part 1); 226. Inventaire de la Correspondance Litteraire (Part 2); 227. Inventaire de la Correspondance Litteraire (Part 3); 228. Sex and Eighteenth-Century English Culture; 230. Dupaty (1746-1788) a career in the late Enlightenment; 232. Tacite et Montesquieu; 233. Rhetorique et Roman au I8e Siecle; 238. Montesquieu on National Power and International Rivalry; 239. A Guide to the Published Works of Benjamin Constant; 240. Nicolas-Antoine Boulanger; 241. La Relation de Robert Everare, Ebauche Probable du Journal de Robert Drury de Daniel Defoe.
Studies on Voltaire and the Eighteenth Century SVEC was from the first a bilingual publication covering all aspects of the Enlightenment the world over. It has long been established as a centre of excellence in its field, and many of its publications have become epochal.
This is an oversized or heavy book, which requires additional postage for international delivery outside the US.