Sovremennyi Balet. Izdano Pri Neposredstvennom Uchastii L.S. Baksta (Modern Ballet)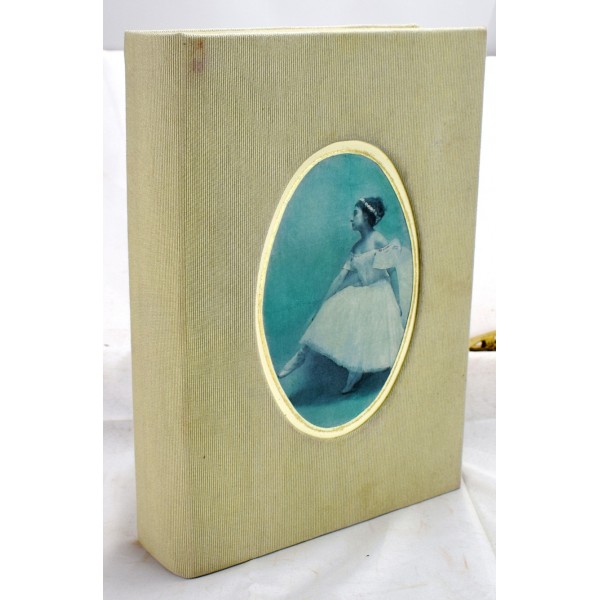 Sovremennyi Balet. Izdano Pri Neposredstvennom Uchastii L.S. Baksta (Modern Ballet)
Valerian Svietlov; Leon Bakst; Ivchenko, Valerian
Saint Peterburg: T-vo R. Golike i A. Vil'borg, 1911
Housed in custom, textured cloth, clam shell case, with inlaid picture of a ballerina. vii, 134 pp., 96 illustrations, plates, portraits, 32 cm. Original gilt decorated pale green cloth designed by E. Lanceray. Modern spine. Very good binding and cover. Clean, unmarked pages. The 96 illustrations include engravings, reproduction photographs and colored art by Leon Bakst, Benois, Cocteau, Golovin, Kustodiev, Roerich and Serov, some mounted on gray paper.
An early treatise and defense on contemporary ballet, reflecting the state of the Russian ballet during the brilliant Russian Seasons in Paris. The book opens with a tribute to M. I. Petipa, the great 19th Century choreographer of the imperial ballet. Additional sections deal with Isadora Duncan and Diaghilev. This work has become an encyclopedia of ballet on the Ballet Russes.
Translated in 1912 into French as Le Ballet Contemporain.
The author, Valerian Svetlov, was a Russian critic, writer, and editor, called the Ballets Russes, led by Sergei Diaghilev, the "modern ballet" or Sovremennyi balet, which was a mixture of new works and revisions of old material (Garafola, Legacies of Twentieth-Century Dance, 55). The Ballets Russes is regarded as the most influential ballet company of the 20th century, introducing the Americans and Europeans to Russian folklore, music and motifs. The company never performed in Russia, where the Revolution disrupted society. After its initial Paris season, the company had no formal ties there. (Garafola Legacies of Twentieth-Century Dance , p. vii.)
The mounted color art in this work are the costume designs for the Bellets Russes, and several photos are of the principle dancers such as Anna Pavlova, Tamara Karsavina, Bronislava Nijinska, and Vaslav Nijinsky (dressed as the Rose in Le Spectre de la rose). Rare original issue in Russian.
Magriel p.113; Niles & Leslie p.504; cf. Beaumont p168 & Derra de Moroda 2453, French edition]