Sir Francis Drake Revived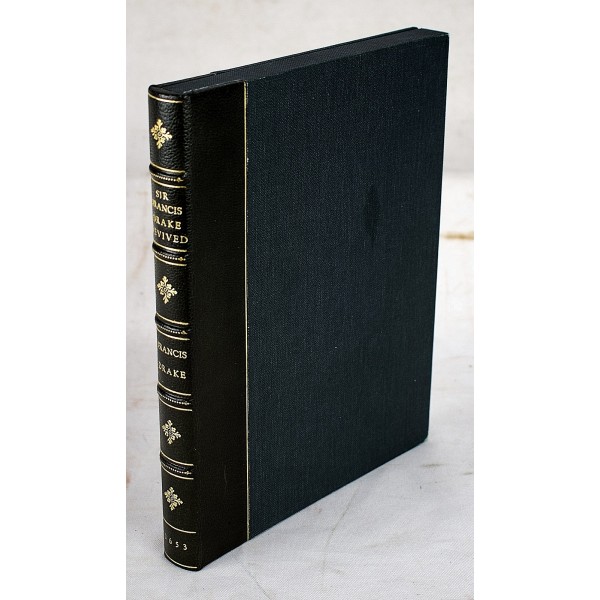 Sir Francis Drake Revived
Francis Drake; Philip Nichols
London : Nicholas Bourne, 1653
[The Struggle for the New World: Sir Francis Drake's first account of his pirate adventures in the West Indies] Small quarto, 19 x 15.5 cm. Bound in later mottled brown calf by Riviere. Gilt spine compartments, gilt ruled, rebacked. Housed in custom-made, morocco-backed clamshell box. [vi], 87. Part one only. Lacks the rare portrait (supplied in facsimile). Old ink notations, mostly marginal. Armorial bookplate. Refs: ESTC R1410; Sabin 20840; Wing D84. This book was previously sold by Bauman's rare books and includes their catalogue description.
On New Years Day, 1593, Drake presented a manuscript of his adventures to Queen Elizabeth. In 1626 his notes were collected and published by Philip Nichols and Francis Drake (Drake's nephew) to garner enthusiasm for adventure in England and inspire later British explorers. The first page makes the aim clear, "Calling upon this dull or effeminate age, to follow his noble steps for gold and silver." The work describes Drake's pirateering voyages of 1570-71 and 1572-1573. It includes his raid on Spanish possessions in the West Indies, notably the raid on Nombre de Dios (Spanish Panama) in 1572, where he captured a fortune of Spanish silver from the center of the Spanish New World empire.
Full title: "Who is or may be a pattern to stirre up all heroicke and active spirits of these times, to benefit their countrey and eternize their names by like noble attempts. Being a summary and true relation of foure severall voyages made by the said Sir Francis Drake to the West-Indies. Viz. His dangerons [sic] adventuring for gold and silver with the gaining thereof. And the surprizing of Nombre de Dios by himselfe and two and fifty men..."