Scriptores Latini in Usum Delphini ed Valpy [Delphin Classics] (184 volume set)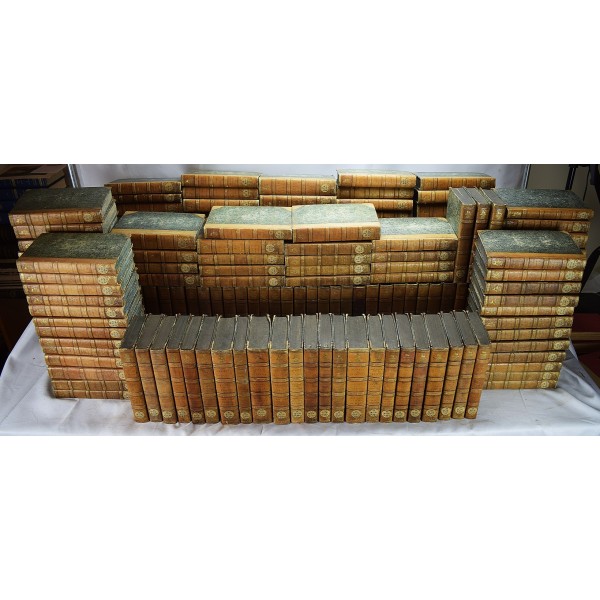 Scriptores Latini in Usum Delphini ed Valpy [Delphin Classics] (184 volume set)
Abraham John Valpy; George Dyer
London : Valpy, 1819
[Valpy's Latin classics, in a contemporary binding.] Massive 184 volume set. Printed in London, 1819 - 1830. Uniformly bound in polished, calf-backed, marbled boards. Gilt ruled. All edges marbled. Institutional book plate inside covers, and small blind stamps. Internally, a very clean set. Contains illustrations, portrait, plates, maps, facsimiles. A very good run of this publication. Lowndes V, 2751 p.
The Delphin Classics were initially created in the 1670s for Louis, Le Grand Dauphin, heir of Louis XIV. (hence Dephini.) They were reissued and edited by Abraham Valpy in the early 19th century. As a schoolboy in Reading, Valpy became enamored by Cicero and the classical world. He strived to rival the early great classical printers and editors, Aldus and Stephanus. Between 1819 and 1930 he reissued 141 classical works, with the assistance of George Dyer. Valpy also founded the "Classical Journal," in 1810. - DNB. [An aside: There is an obscure literary reference to the Delphin Classics in Thomas Hardy's Jude the Obscure, where the working-class Jude attempts to educated himself with old Delphin editions.]
Partial list of contents: Apuleius. Opera omnia. 1825. Aurelius Victor, Sextus. Historia Romana. 1829. Ausonius, D.M. Opera omnia. 1823. Boethius, A.M.S. De consolations philosophiae. 1823. Caesar, Julius. Opera omnia. 1819. Catullus, Valerius. Opera omnia. 1822. Cicero, M.T. Opera. 1830. Claudianus, Claudius. Opera omnia. 1821. Dictys of Crete. De bello Trojano. Curtius Rufus, Quintus. De rebus gestis Alexandri Magni libri superstites. 1825. Eutropius. Breviarium historiae Romanae. 1821. Festus, S.P. De verborum significatione. 1826. Florus, L.A. Epitome rerum Romanarum. 1822. Gellius, Aulus. Noctes Atticae. 1824. Horace. Opera omnia. 1825. Justin. Historiae Philippicae. 1822. Juvenal. Opera omnia. 1820. Livy. Historiarum libri qui supersunt. 1828. Lucretius Carus, Titus. De rerum matura. 1823. Manilus, Marcus. Astronomicon. 1828. Martialis, M.V. Epigrammata. 1823. Nepos, Cornelius. Vitae excellentium imperatorum. 1822. Ovid. Opera omnia. 1821. Panegyrici veteres. 1828. Paterculus, C.V. Historia Romana. 1822. Persius Flaccus, Aulus. Opera omnia. 1820. Phaedrus. Fabulae Aesopiae. 1822. Plautus. Comoediae. 1829. Pliny, the elder. Naturalis historiae libri XXXVII. 1826. Propertius, S.A. Opera omnia. 1822. Prudentius Clemens, Aurelius. 1824. Sallust. Opera omnia. 1820. Statius, P.P. Opera omnia. 1824. Suetonius Tranquillus, Caius. 1826. Tacitus, C.C. Opera omnia. 1821. Terence. Comoediae sex. 1824. Tibullus, Albius. Opera omnia. 1822. Valerius Maximi. Factorum dictorumque memorabilium. 1823. Virgil. Opera omnia. 1819.