Recueil d'Appareils a Vapeur Employes Aux Travaux de Navigation de Chemins de Fer et Fondation du Pont du Rhin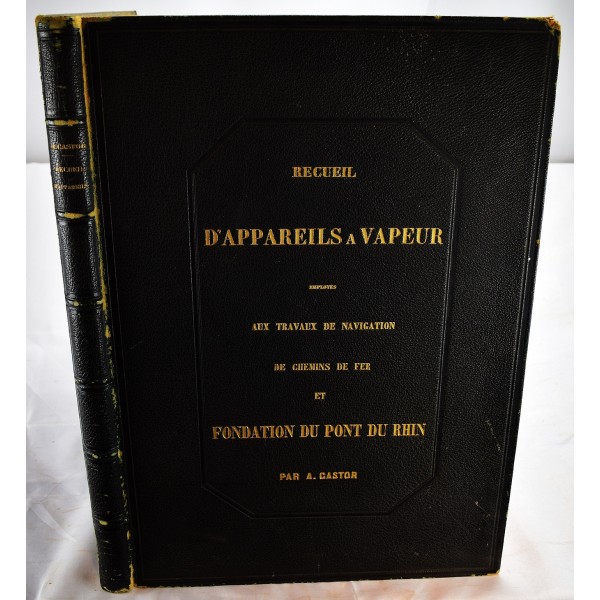 Recueil d'Appareils a Vapeur Employes Aux Travaux de Navigation de Chemins de Fer et Fondation du Pont du Rhin
Castor, Antoine, 1811-1874.
Paris : Firmin Didot freres, fils et cie, 1860
[Engineering] Folio, 56 x 39.5 cm. Bound in publisher's full black morocco. Hardcover. Very good binding and cover. Minor rubbing along spine hinge. All edges gilt. Marbled end pages. Atlas of 50 p., and 19 double-page engraved schematic plates. A publication by France's leading civil engineering contractor who played a major role in the construction of the French railway system. Some of the projects were technological breakthroughs, e.g., the introduction of steam dredgers which could excavate 1500 cubic metres of spoil per day and the construction of the Rhine railway bridge at Kehl, a milestone in foundation engineering. To build his bridges, Castor notably used a compressed air caisson technique on a size and to a depth greater than previously attempted. Castor was one of the major players on the European continent to realize the transition from manpower to machine power in construction projects.
This is an oversized or heavy book, which requires additional postage for international delivery outside the US.