POLITICAL ESSAY ON THE KINGDOM OF NEW SPAIN - WITH PHYSICAL SECTIONS AND MAPS - 4 VOLUMES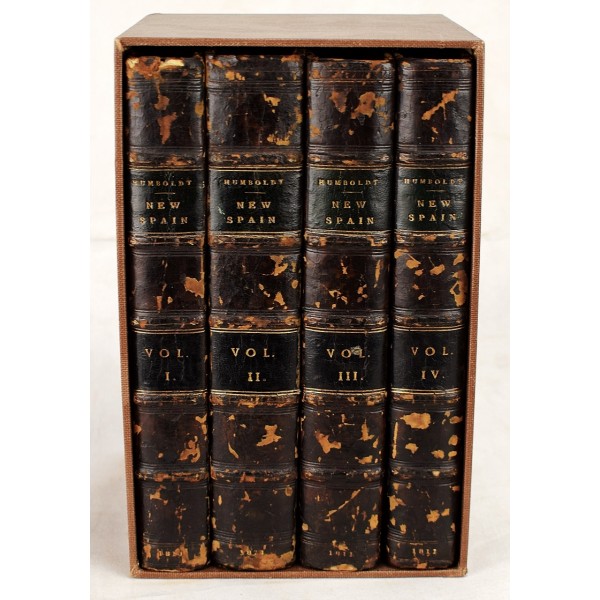 POLITICAL ESSAY ON THE KINGDOM OF NEW SPAIN - WITH PHYSICAL SECTIONS AND MAPS - 4 VOLUMES
De Humboldt, Alexander - Translated From the Original French By John Black
Longman, Hurst, Rees, Orme, and Brown, 1811
4 volume set in custom made slip box. 1st English ed. Translation of Essai politique sur le royaume de la Nouvelle -Espagne. Bound in 1/4 leather over marbled boards. Some wear to spine hinges. Shaken, internal hinges reglued. Later end pages. Former owners' names and stamp on feps. Lacking Atlas volume. 6 maps, 2 folding. 6 plates. Collated: Vol I: xvii, [18-20], cxlv, [1], 289, [1] pp. Vol II: [2], 531, [1] pp, Vol III: [6], 493, [1] pp. Vol IV: [2], 374 pp, plus index with ads on verso of its last leaf. NOTE: The 2 volume American edition published by Riley is abridged. This edition is the 4 volume London edition. Sold with all faults.
Alexander von Humboldt (1769-1859) was an important Prussian geographer and explorer. Humboldt traveled extensively in Latin America and described it from a scientific viewpoint. He had an important influence on Darwin. Much of this work deals with the condition of the indigenous peoples and slaves in Spanish possessions. An important early work on the geography and politics of Latin America. A key early source for information on California.
Howes H786. Sabin 33715. Wagner Camp 4:7a:5.