Poesias del Ciudadano Jose María Heredia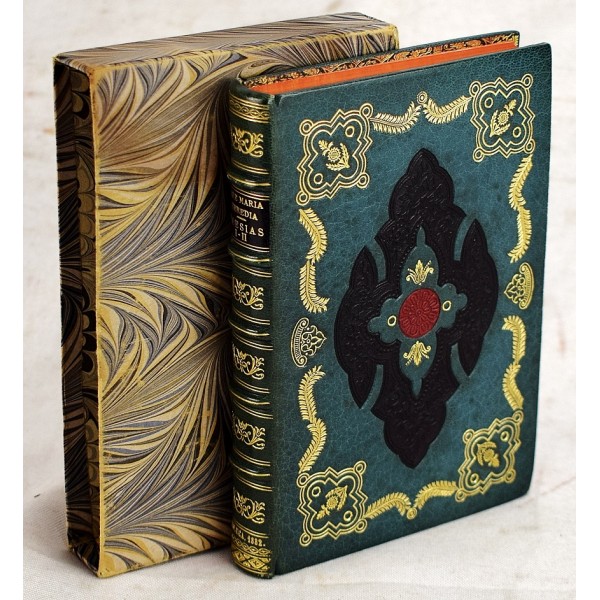 Poesias del Ciudadano Jose María Heredia
Jose Maria Heredia; Antolin Palomino Olalla (binder)
Toluca : Imp. del Estado a cargo de Juan Matute, 1832
2 volumes in one. 16mo, 141 x 96mm. Bound in modern, fine, green morocco by the great Spanish binder, Don Antolin Palomino Olalla (1909-1995). Ollala has signed the front end page (in minuscule print). Gilt spine and gilt, black and red inlays to covers. Gilt Dentelle. All edges red. Held in marbled slip case. 132, [3]; 128, 15 pages. Stamp of Pedro J. Guiteras (1814-1890, a Cuban historian) on title. Additional stamps of Dr. Jorge Beato Nunez (fl. 1950s-1960s, a Cuban-American pediatrician; on five pages).
Heredia, "El Cantor del Niagara", was a gifted Cuban-born poet. His early involvement in the Cuban liberation movement and an abortive uprising, caused him to flee to New York and eventually Mexico. "For Cubans of his and later generations, Heredia was the poet who first and most vividly expressed a sense of Cuban nationhood, linked indissolubly to the island's landscapes and to the poet's exilic condition. For it was from the distance of his destierro that Heredia evoked, in his imagination and from the depths of his ethical and political consciousness, a homeland that combined, in his words, "of the natural world, loveliness, / of the moral world, depravity." The degree to which Heredia's verses were an inspiration for pro-independence Cubans of his generation cannot be overstated." - Frederick Luciani, "Jose Maria Heredia in New York, 1823–1825: An Exiled Cuban poet in the Age of Revolution, Selected Letters and Verse," SUNY, 2020.
Notes on the publication history: This edition was supervised by Heredia while in Mexico, and is the most complete collection of his works during his lifetime. The earlier 1825 New York Behr & Kahl edition is more common. This is the first Toluca edition (despite being called Segunda). The second Toluca edition was printed in 1852. Quite rare, only four copies recorded in institutional collections Yale, Harvard, the University of Texas Benson Collection, and the Biblioteca Nacional de Espana. Palau 113262n.