Pitture di Antonio Allegri detto Il Correggio Esistenti in Parma nel Monistero di San Paolo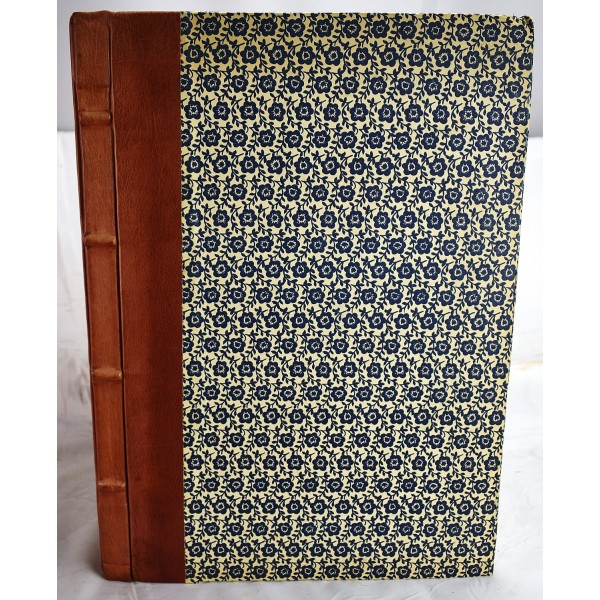 Pitture di Antonio Allegri detto Il Correggio Esistenti in Parma nel Monistero di San Paolo
Antonio Allegri da Correggio; De Rossi, Giovanni Gherardo
Parma : Bodoni, 1800
3 parts in 1. Folio, 45 x 30 cm. Bound in fine modern morocco backed pattered boards. Scattered spotting. Collated: [4], 8, [2], 27, [4], [4], 14, [2], 43, [6], 11, [2], 33, [2]; engraved title "Pitture del Correggio" & 34 stipple-engraved plates (35 plates total). The work describes and reproduces Correggio's frescos from Il Monastero di San Paolo in Parma, painted circa 1520. "Over the fireplace he painted the figure of Diana the huntress, goddess of chastity; and in the umbrella-vault an arbour with sixteen ovals, many showing putti, above sixteen grisaille lunettes based on ancient Roman coins and a frieze of rams' heads.
Here plate [1] (folding) is an overview of four sections of the vault, showing the arbour, four ovals, four lunettes and part of the frieze; pl. [2] shows Diana; the sixteen pl. [3-18] show the sixteen ovals, with putti; the sixteen pl. [19-34] show the sixteen lunettes and frieze. All plates except the first are printed in 'sanguine'. " - Royal Academy, 05/1920. L. Farinelli and C. Mingardi in their 1989 edition of Lama's Vita of Bodoni state that the plates were drawn by Francisco Vieira and engraved by Francesco Rosaspina. Refs: Brooks 774. Cicognara 3438. M. Dall'Acqua et al., Il Monastero di San Paolo (1990); E. Panofsky, The iconography of Correggio's Camera di San Paolo (1988); R. Longhi, Il Correggio e la Camera di San Paolo (1988); I. Affo, Ragionamento sopra una stanza dipinta dal celeberrimo Antonio Allegri da Correggio nel monastero di San Paolo in Parma (1794). On Bodoni see: G. Giani, Catalogo delle authentiche edizioni bodoniane (1948).
This is an oversized or heavy book, which requires additional postage for international delivery outside the US.