Oxford English Novels (14 volume set)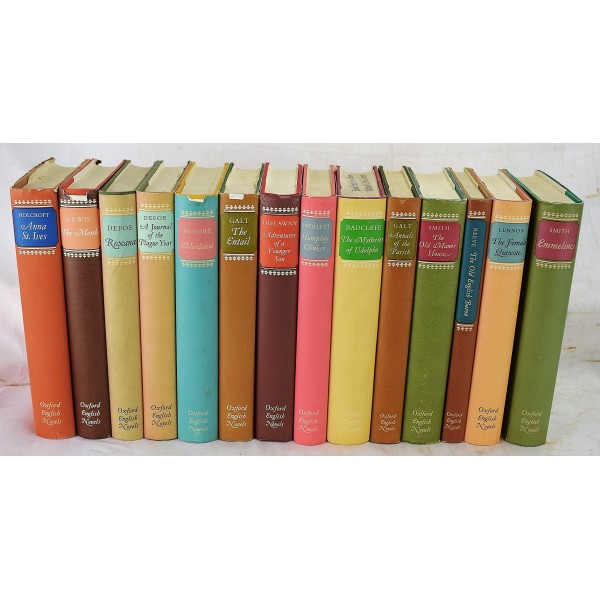 Oxford English Novels (14 volume set)
Defoe, Daniel; Smith, Charlotte; Galt, John; Reeve, Clara
Oxford University Press, 1964
14 volume set. Hardcover and dust jackets. Minor wear/tear to dust jackets with some loss. Good bindings and covers. Generally clean. Some spotting to edges. Owner's name and stamps to some front end pages. Light shelf wear. The Mysteries of Udolpho has library stamps and markings.
Contents: Adventures of a Younger Son by Edward John Trelawny (1974); Annals of the Parish by John Galt (1967); Anna St. Ives by Thomas Holcroft (1970); Emmerline by Charlotte Smith (1971); The Entail by John Galt (1970); The Female Quixote by Charlotte Lennox (1970); Humphry Clinker by Tobias Smollett (1966); A Journal of the Plague Year by Daniel Defore (1969); The Monk by Matthew Lewis (1973); Mordaunt by John Moore (1965); The Mysterious of Udolpho by Ann Radcliffe (1966); The Old English Baron by Clara Reeve (1967); The Old Manor House by Charlotte Smith (1969); Roxana by Daniel Defore (1964).
This is an oversized or heavy book, which requires additional postage for international delivery outside the US.