Our Mutual Friend [20 Parts in 19 Monthly Issues, Complete]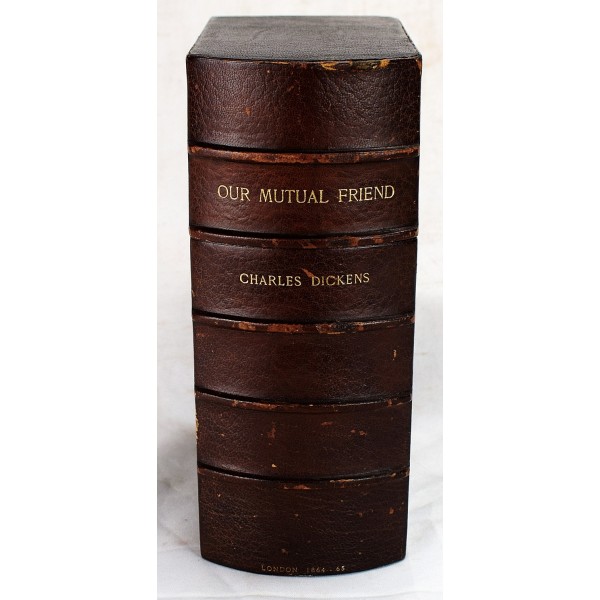 Our Mutual Friend [20 Parts in 19 Monthly Issues, Complete]
Charles Dickens ; with illustrations by Marcus Stone
Chapman and Hall, 1864
[First edition of Dicken's Final Completed Novel] Complete, 20 parts in 19, as issued. Issued monthly, from May, 1864, to November, 1865, in publisher's illustrated green paper wrappers. Wraps are generally in good condition, with the minor exception of the first issue missing a small piece at the bottom corner; and the sixth issue has a marginal chip at the rear wrap. Forty woodcut plates by Marcus Stone. The pages are in very good condition and generally clean and unmarked. The first and final issues have minor, occasional spotting.
Issues held in green cloth chemise. Handsome, custom-made, brown morocco slip case, with gilt lettering. Some bumps, edge wear to slip case. Cataloguer's note: We used Cleaver & Hatton's "A bibliography of the periodical works of Charles Dickens," 1933. All the novel's text is present.
We collated the ads present and found: nos. 1-3 complete, with all ads; no. 4: lacks two ads, for Queen Insurance and Glenfield Starch; no. 5: lacks Glenfield Starch ad; no. 6: front ads on p. 3-14 and the rear ads 3-8 are lacking; no. 7 complete; no. 8: one slip and the first 4 pages of ads are lacking, as well as the rear Norton Chamomile Pill ad leaf (note: this ad is present in no. 4), also two leaves of Chapman and Hall's "List of New Books" are lacking; no. 9: the yellow slip proceeding the advertiser and the slip for the Albert Insurance Company are torn with partial loss, (Note: the Scottish Union Advertiser ad is present and a rare variant on cream-ribbed paper, '... of 45 copies examined, only two were seen of this paper... ": Hatton & Cleaver); no. 10: the rear ads are lacking one leaf; no. 11: lacking one slip at rear; no. 12: lacking ad pages 1-6 (three ad leaves); no. 13: three leaves of ads are partially defective, where an ad has been cut out on 7-8, 9-10 p. and the yellow slip ad; no. 14: the Benham ad page is partially defective where part of the leaf has been cut out on p. 9-10, and lacks the slip ad after plates; no. 15: missing Opinions of the Press ad page at rear; no. 16-20 are complete with all ads and slips.
Provenance: The Rosenbach Collection. "The Rosenbach was founded in 1954 by Dr. A.S.W. Rosenbach (1876-1952) and his brother, Philip (1863-1953). Renowned dealers in books, manuscripts, and fine art." Refs: Hatton and Cleaver p. 345-370.