Opera Omnia, Tam Antea Sparsim Edita, Quam Hactenus Inedita. (4 volume set)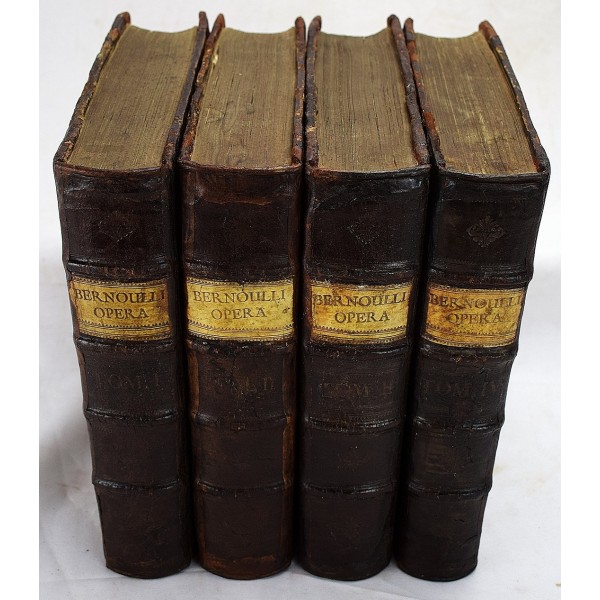 Opera Omnia, Tam Antea Sparsim Edita, Quam Hactenus Inedita. (4 volume set)
Bernoulli, Jean, Johann (1667-1748).
Lausanne & Geneve, Marc-Michel Bousquet & Compagnie, 1742
[First Collected edition - History of Differential and Integral Calculus] 4 volume set. Quartos, 25 x 20 cm. Bound in contemporary 1/4 calf over paste-boards. Restored binding. 91 engraved folding plates. Lacking half-titles and 2 portraits (commonly absent). [4], xxiv, 563, [1]; [2], 620; [2], 563, [1]; [3]-588 pages. Titles in red and black, with engraved vignettes. Scattered foxing, staining. Generally clean internally.
"Bernoulli published only one book, Theorie de la manoeuvre des vaisseaux (1714) and apart from this, his dissertation De motu musculorum (1694) and one or two minor pieces, all his work was contributed to journals (189 papers are collected here) or were first published in these volumes, i.e. 59 of his lectures and the Hydraulica in volume IV [appearing here for the first time in print], which was written in competition with his son Daniel." - Roger Gaskell. Bernoulli's "chief discoveries are [in] exponential calculus, the treatment of trigonometry as a branch of analysis, the conditions for a geodesic, the determination of orthogonal trajectories, the solution of the brachistochrone, the statement that a ray of light traversed such a path that Smds [Greek] is a minimum, and the enunciation of the principle of virtual work ... The general adoption on the continent of the differential rather than the fluxional notation was largely due to his influence." Ball, A Short Account of the History of Mathematics, p. 368. The first volume is primarily devoted to geometry and calculus, muscular mechanics, resistance of solids, and the geometric motion of pendulums and projectiles. The second and third volumes deal with mechanics, maneuvering vessels and the analysis of trajectories. The forth volume deals contains the first printing of his Hydraulica, co-written by his son. Refs: Bibliotheca Mechanica, page 36-37; Brunet 1:803; Honeyman 293; Norman 217; Poggendorff I 157-59.
Early 20th century book plate of Frank L. Miller, Brooklyn.
This is an oversized or heavy book, which requires additional postage for international delivery outside the US.