Official History of the Great War: Military operations : France and Belgium, 1914-1918 (22 volume set) [Containing 8 map volumes]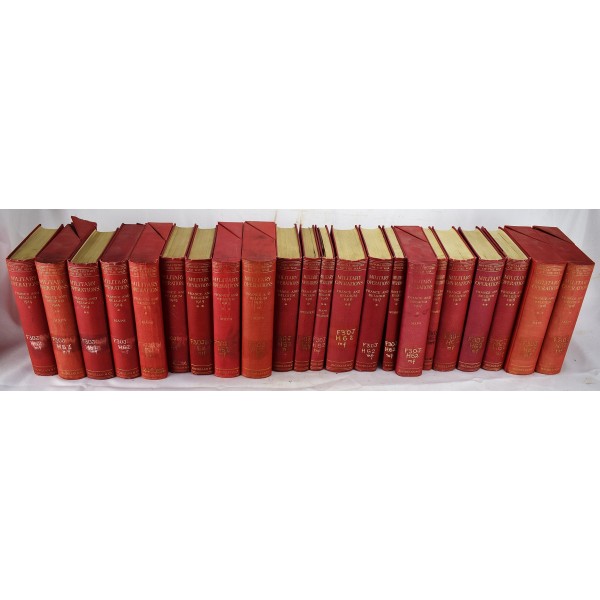 Official History of the Great War: Military operations : France and Belgium, 1914-1918 (22 volume set) [Containing 8 map volumes]
James E. Edmonds; A.F. Becke
Macmillan, 1922
22 volume set. British Official history of the War. 1st ed. London : Macmillan, 1922-1940. Bound in publisher's red cloth, with gold lettering. Good bindings and cover. Library markings on spines & end sheets, perforated stamp on title page. Pages clean and white. 14 volumes + 8 Map volumes, containing color maps. <br> History of the Great War Based on Official Documents by Direction of the Committee of Imperial Defence series. The History of the Great War Military Operations volumes were originally intended as a technical history for military staff, using papers not available to the general public. The narrative is arranged in chronological order, as far as possible. The intention was to learn lessons, both tactical and logistic, from the war and also to provide an authoritative historical account. In the 1990s the Imperial War Museum reprinted these books, but with black and white maps. These have the original color maps.
Contents: [4 volumes from 1914]: 1914 v. 1. Mons, the Retreat to the Seine, the Marne and the Aisne, August - October 1914 / Brigadier-General Sir James E. Edmonds, 1922; 1914 v. 2. Antwerp, La Bassee, Armentieres, Messines and Ypres, October - November 1914 / James E. Edmonds, 1925; 1914 Maps v. 1; 1914 Maps v. 2; [4 volumes from 1915]: 1915 v. 1. Winter 1914-15: Battle of Neuve Chapelle: Battles of Ypres / James E. Edmonds and Captain G.C. Wynne, 1927; 1915 V. 2. Battles of Aubers Ridge, Festubert, and Loos / James E. Edmonds, 1928; [5 volumes from 1916]: 1916 V. 1. Douglas Haig's Command to the 1st July: Battle of the Somme / James E. Edmonds, 1932 + Appendices; 1916 V. 2. 2 July 1916 to the end of the Battles of the Somme / Captain Wilfrid Miles, 1938 + Maps and Appendices; [3 volumes from 1917]: 1917 V. 1. The German Retreat to the Hindenburg Line and the Battles of Arras / Captain Cyril Falls, 1940; 1917 Appendices; 1917 Maps; ; [6 volumes from 1919]: 1918 V. 1. The German March Offensive and its Preliminaries / James E. Edmonds, 1935; 1918 Appendices; 1918 V. 2. March-April: Continuation of the German Offensives / James E. Edmonds, 1937; 1918 V. 3. May-July: The German Diversion Offensives and the First Allied Counter-Offensive / James E. Edmonds, 1939; 1918 Maps v. 1; 1918 Maps v. 2.
This is an oversized or heavy book, which requires additional postage for international delivery outside the US.