Now, Voyager (Signed)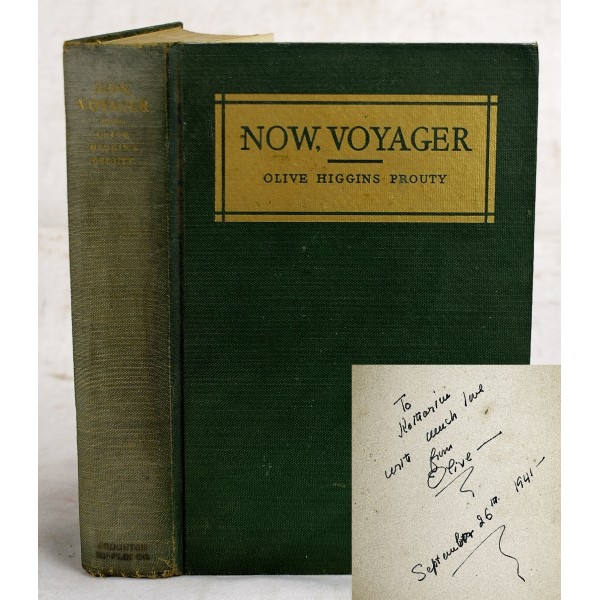 Now, Voyager (Signed)
Prouty, Olive Higgins
Houghton Mifflin, 1941
Inscribed by Olive Higgins Prouty on front end page. Later made into a movie starring Bette Davis. Bound in green cloth. Hardcover. No dust jacket. Good binding and cover. Shelf wear. Spine sunned. Some foxing. Pages unmarked. 339 p., 21 cm.
"At last we have the moon and the stars: at last, that is, the public can read a novel on which one of Hollywood's most stirring melodramas is based. The movie Now, Voyager, a love story as well as a film about mothers and daughters, has fascinated female, feminist, and even despite its heated heterosexual romance lesbian and gay viewers and critics. The novel promises to enhance our pleasurable perplexity about the film's many enigmas concerning the nature of women's most passionate attachments." - Tania Modleski, author of Loving With a Vengeance
Olive Higgins Prouty (1882-1974) was an American poet and novelist, known for her work Stella Dallas. She was an associate of Sylvia Plath.