NOMO-LEXIKON: A Law Dictionary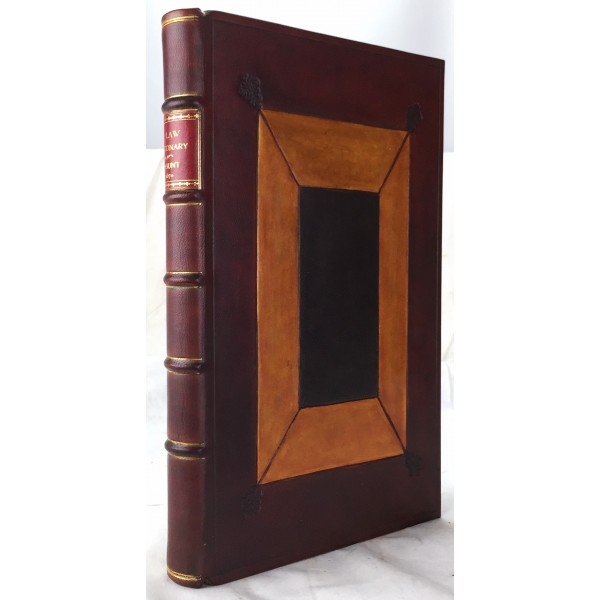 NOMO-LEXIKON: A Law Dictionary. Interpreting Such Difficult and Obscure Words and Terms as Are Found Either in Our Common or Statute, Ancient or Modern Lawes. With References to the Several Statutes, Records, Registers, Law-Books, Charters, Ancient Deeds, and Manuscripts, wherein the Words Are Used: And Etymologies, Where They Properly Occur...
Blount, Thomas
Printed by Tho. Newcomb, for John Martin and Henry Herringman, 1670.
First Edition of Blount's Dictionary. Folio. [13], 272 pp. Bound in modern red Cambridge-style leather. 5 raised bands. Gilt spine. Marbled endpapers. Fine binding and cover. Marginal dampstain to several page margins affecting text.
Finding defects with Cowell's Interpreter (1607) and Rastell's Termes de la Ley (1523), Blount, published a significant improvement. In his preface, Blount indicates why he felt his book was needed: Cowell "is sometimes too prolix in the derivation of a Word, setting down several Authors Opinions, without categorically determining which is the true" and Rastell "wrote so long hence, that his very Language and manner of expression was almost antiquated." He was encouraged in his endeavor by the belief that no science had more abstruse terms than that of the Law, and stated that the dictionary will be useful "even from the Coif to the puny-Clerk."
More elaborate than the Termes de la Ley, this work quickly superseded its predecessors. In addition to providing the explanation of common law terms, Blount was "the first lexicographer of a purely English dictionary to attempt an etymology of words (Starnes & Noyes, p. 46)"; he devoted many pages to etymology and described the origins of ancient law customs. Blount was also the first English lexicographer who consistently cited references to authorities consulted, statutes, and treatises (Cowley, lxxxix). Cowley, A Bibliography of Abridgments, Digest, Dictionaries and Indexes to the Year 1800, Sheldon Society 160. Holdsworth, A History of English Law XII:175-176.