Modern London; Being the History and Present State of the British Metropolis. Illustrated with Numerous Copper Plates. [Includes The Cries of London)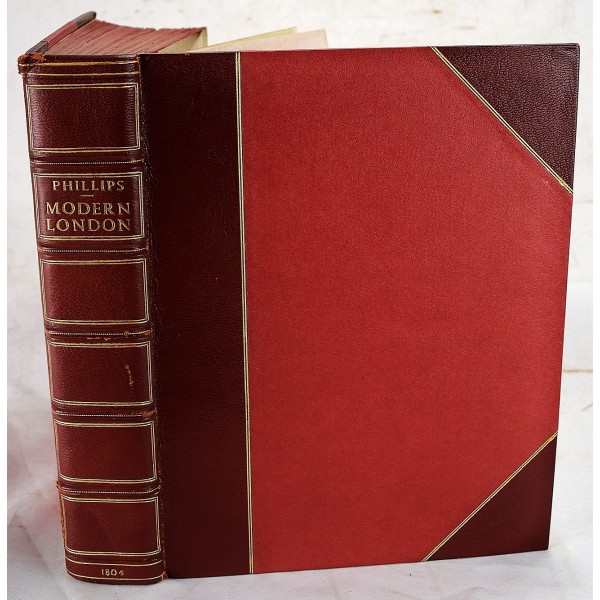 Modern London; Being the History and Present State of the British Metropolis. Illustrated with Numerous Copper Plates. [Includes The Cries of London)
Richard Phillips; William Marshall Craig
London : Richard Phillips, 1804
[London at the beginning of the 19th century] 4to. Bound in later 3/4 red morocco over red cloth. Gilt ruled spine compartments. Top edge red. Two folding maps, frontispiece of London and Westminister as seen from the Royal Observatory at Greenwich and a large map of London and the Thames. 51 illustrated plates. Consisting of 20 (of 21) engraved (uncolored) plates. (Lacking plate 16, St. Paul's Cathedral.) Also, 31 hand colored plates showing London itinerant traders in their ordinary costume. The color plates are vivid and quite interesting (particularly the Cat's and Dog's Meat! seller). This is the first issue of the color plates identified by Tooley. Note: The description of plate page 29 is bound upside down. Some offsetting to plates, generally sound. Contents: I. History of London. II. General Description of London. III. Present Manners and Police of the Metropolis. IV. Hospitals and other Public Charities. V. Juridical and Legal Tribunals and Establishments. VI. Royal Palaces, Parks, and other Appurtenances of State and Government. VII. Commerce and Trade of London, Public Offices, and Public Commercial Buildings. VIII. Prisons. IX. Architecture, Public and Private Buildings, Squares, and Statues. X. Learned Societies, Literature, and Literary Journals. XI. Public Amusements, Theatres, Musical and Theatrical Performances. XII. State of the Fine Arts, and their Influence on and Relation to Manners: Public and Private Collections, and Public Exhibitions.
List of colored plates: BAKING OR BOILING APPLES - Stratford Place; BAND-BOXES - Tabart's Juvenile Library; BASKETS – Whitfield's Tabernacle; BELLOWS TO MEND – Smithfield; BRICK-DUST - Portman Square; BUY A BILL OF THE PLAY - Drury Lane Theatre; CATS AND DOGS' MEAT - Bethlem Hospital; CHAIRS TO MEND - Soho Square; CHERRIES - St James's Palace; DOOR MATS - Charing Cross; DUST O! - St. Mary-le-Strand; GREEN HASTENS - Newgate Prison; HAIR BROOMS - Shoreditch Church; HOT LOAVES - St. Martin's in the Fields; HOT SPICED GINGERBREAD - The Pantheon; KNIVES TO GRIND - Whitehall; LAVENDER - Temple Bar; MACKEREL - Billingsgate; MATCHES - The Mansion House; MILK – Cavendish Square; NEW POTATOES - Middlesex Hospital; OLD CLOTHES - Fitzroy Square; POOR SWEEP - Blackfriars Bridge; RABBITS - Portland Place; RHUBARB - Russell Square; SAND O! – St Giles's Church; A SHOWMAN - Hyde Park Corner; SLIPPERS – Somerset House; SOOT O! - The Foundling Hospital; STRAWBERRIES - Covent Garden Market; WATER CRESSES - Hanover Square.
Refs: Abbey 271; Tooley 370; Adams 89.