Let's Look at the Soviet People: 28 Photographs Showing the Soviet People at Work and at Play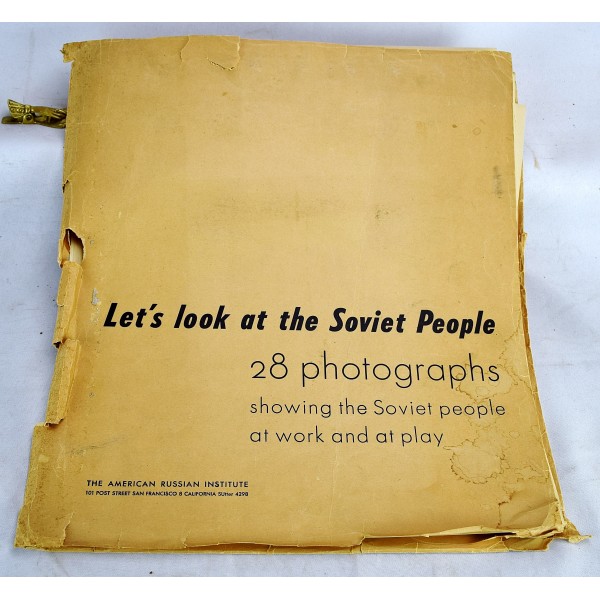 Let's Look at the Soviet People: 28 Photographs Showing the Soviet People at Work and at Play
American Russian Institute (San Francisco)
The American Russian Institute, 1947
Square Folio, 42.5 x 37.8 cm.  Loose as issued, [3] l., 29 plates. Original wrappers, printed portfolio (torn at margins).  Includes an additional plate, 28a, Declaring, "The Soviet Constitution guarantees and insures to every citizen, irrespective of race, creed or color ... the right to education, ... the right to employment ... the right to rest and leisure." Quite rare, there appears to be only one library holding of this work outside of California.  
A pro-Soviet propaganda vehicle for the Communist Party USA. "Founded in 1926 under the auspices of the Communist Party USA, the American Russian Institute served as the chief American vehicle of pro-Soviet propaganda until its demise in 1948 at the start of the Cold War. After the Truman Administration declared the Institute to be a subversive organization in 1947, the Institute lost funding, staff, and readers, and closed in 1948." - Fred S. Naiden, "The American Russian Institute," Unz, retrieved 2018.  
Soviet Union > Social life and customs > Illustrations.