Les entretiens physiques d'Ariste et d'Eudoxe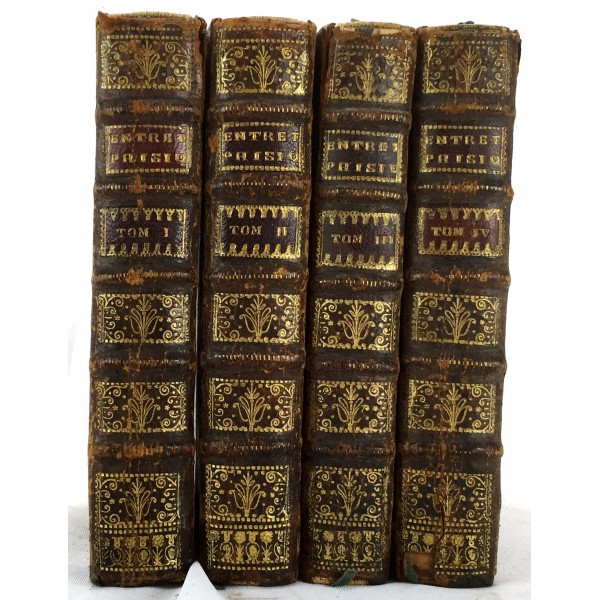 Les entretiens physiques d'Ariste et d'Eudoxe, ou Physique nouvelle en dialogues qui renferme precisement ce qui s'est decouvert de plus curieux & de plus utile dans la nature. 4 volume set
Noel Regnault
Paris, J. Clouzier, 1732.
4 volume set, complete. New edition. Contemporary leather, gilt spine, raised bands, leather spine labels. Marbled endpapers. Profusely illustrated with plates, not collated. Rubbing wear, head of joints starting. Scattered foxing. 3 title with repair. Wellcome IV, page 495; Sommervogel VI, page 1599.
Regnault occupied the chair of mathematics at the College Louis-le-Grand, and applied the system of Descartes to the study of the exact sciences. Wanting to demonstrate that Antiquity is at the source of modern science, Regnault confronts the knowledge of the ancients and that of his time in a living way. He thus imagines encounters between scientists and ancient and modern philosophers, for example, making dialogue between Aristotle and Descartes. Cioranescu III, Bibliographie de la litterature francaise au XVIIIeme, 52497; Querard VII, La France litteraire, p. 498.
This is an oversized or heavy book, that requires additional postage for international delivery outside the US.