Le Grand Coustumier du Pays et Duche de Normendie: Tres Utile & Profitable a Tous Practiciens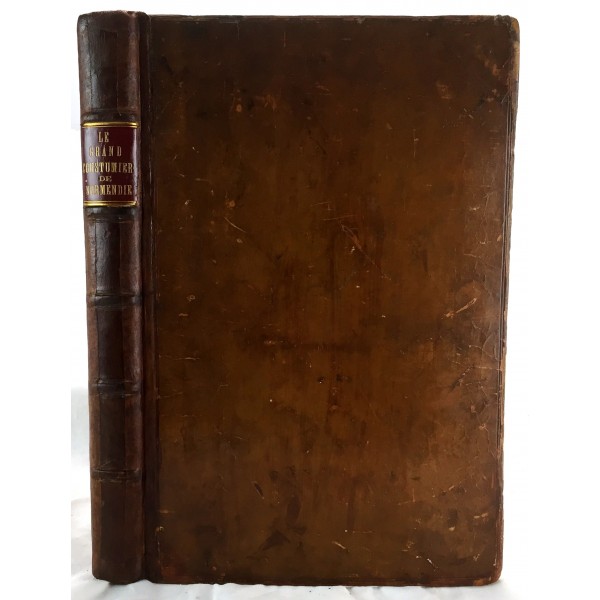 Le grand coustumier du pays et duche de Normendie : tres utile & profitable a tous practiciens
Guillaume Le Rouille; Normandy (France)
Rouen: Nicolas le Roux for Francoys Regnault of Paris, Jehan Mallard of Rouen et Girard Anger of Caen, 1539.

Folio, 31 cm. Collated: [6], clx [i.e. clii], [2], [4] lxxxii ff. Bound in mid-18th century calf, raised bands. Red leather spine label. Rehinged and rejointed, wear to edges. Typeset in Gothic Bastarda (Blackletter). Text in parallel columns. Book plate of I. Hoague on front paste down. Title page in red and black. Woodcut engraved borders to title page. Title has institutional stamps from Library of New York Bar Association. Contemporary ink underlining to a few pages, otherwise pages clean and unmarked. Contents: 1) Tractatus arboris consaguineitatis, 2) Royal ordinances, and 3) the Proceeds of the Court de Parlement de Normandie. 
An important edition of the customary law of Normandy.  Le Rouille's Grand Coutumier retains the original customs of Medieval Normandy prior to the second reform.  Traditional Norman law provided one of the foundations of English law, especially during the Plantagenet rule of England.  The Custom of Normandy developed from a mixture of legal principles from Scandinavian law and Frankish (Carolingian) law used in old Neustria, with influences from Roman law and canon law.  In 1453, Charles VII of France ordered the drafting of all the customs of France. Normandy was the last to implement the King's edict in 1585. The main provisions of the Coutumier were in force in their medieval state in France until the Revolution. This retention of Norman customary law was a result of the French crown's attempts to placate Norman desire for a continuation of their judicial autonomy. It contains, "125 articles starting with jurisdiction, judicial officers, various ducal rights (for example wrecks and treasure trove), various forms of feudal tenure, legal procedure and legal remedies, succession law, criminal law and punishment, various forms of civil dispute, possession actions, other forms of court action and prescription." (Dawes, Gordon. A Brief History of Guernsey Law, Jersey Law Review. Feb. 2006).  It remained the law of the English held Channel Islands, Jersey and Guernsey (Scutton aptly states they "tenaciously retained" Norman law). 
"There are two compilations of the customary law of the duchy of Normandy that were written in the thirteenth century. One, known as the Tres ancien coutumier (the 'very old custumal'), was written in Latin about the year 1200 when Normandy was still part of the Angevin empire. French and Anglo-Norman translations of it are also known. The other, called by its editor the Summa de legibus in curia laicali ('summary of laws in the lay court'), was composed, also in Latin, sometime between the years 1230 and 1250, at a time when Normandy was under the direct control of the French crown. It was later translated into French in a version that became known as the Grand coutumier de Normandie. The last printed edition of the Grand coutumier de Normandie appeared in 1539 in an edition by Guillaume Le Rouille, and that edition included the Latin text as a sort of appendix." Charles Donahue, Summa de Legibus Normannie (Liber Consuetudinis Normanniae); HLS MS 220 Harvard Law School Library, 2010.
Refs: Adams; N339; Brunet, Manuel du Libraire; II, 379. Goldsmiths'-Kress; 27. Rouen: Nicolas le Roux for Francoys Regnault of Paris, Jehan Mallard of Rouen & Girard Anger of Caen, 1539.