Le Fabriche e i Disegni di Andrea Palladio: Opera Divisa in Quattro Tomi con Tavole in Rame Rappresentanti le Piante, i Prospetti e gli Spaccati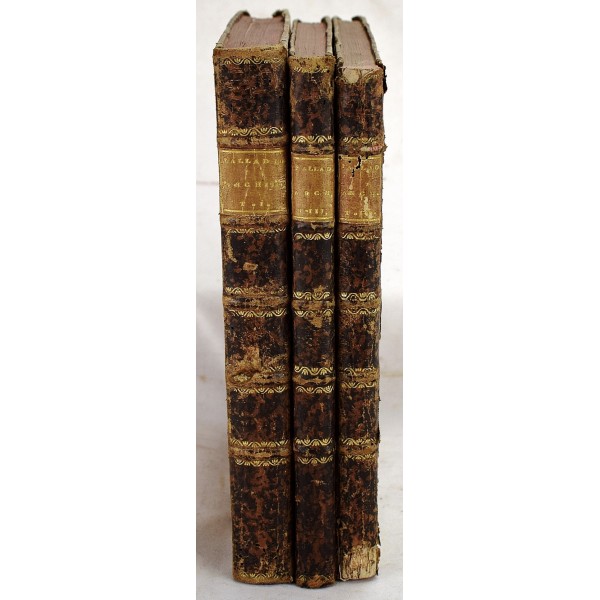 Le Fabriche e i Disegni di Andrea Palladio: Opera Divisa in Quattro Tomi con Tavole in Rame Rappresentanti le Piante, i Prospetti e gli Spaccati
Andrea Palladio; Ottavio Bertotti Scamozzi; Antonio Mugno
In Vicenza : Per Giovanni Rossi, 1796
3 volumes (of 4). Containing tomes 1, 3-4. Quartos, 23.5 x 18.7 cm. Bound in contemporary sheep-backed boards. Gilt ruled spine. Tail of v.4 chipped, with minor loss. Solid bindings and covers. Shelf worn. Clean, unmarked pages. 158 architectural plates, some folding. Primarily engraved by Antonio Mugno. Engraved frontispiece portrait of Palladio in v.1 by Davide Rossi. Collation: V.1: VIII, 128 p., 52 plates; v.3: IV, 80 p, 54 plates ; v.4: IV, 60 pages, 52 plates.
Early bookplate of a mother bird feeding two chicks with the motto, "Il Faut Etre Trop Bon Pour Etre Sur D'Etre Assez".
Refs: Brunet IV, 321; Cicognara I, 599; Graesse V, 108; Fowler 235 note. Considered the first critical reappraisal of the architecture of Palladio, Scamozzi published the first volume of this work in 1776 focusing just on Palladio's work in the region of Venice. A complete folio edition was published in 1786, and Giovanni Rossi published this, the first quarto edition in 1796. "The text is the same as that of the folio edition of 1776-83 and the plates were reduced copies of those in that edition by Ant. Mugnon."