The Great Charter Called in Latyn Magna Carta: with Diuers Olde Statutes Whose Titles Appere in the Next Leafe Newly Correctyd. Cum Priuilegio. ad Imprimendum Solum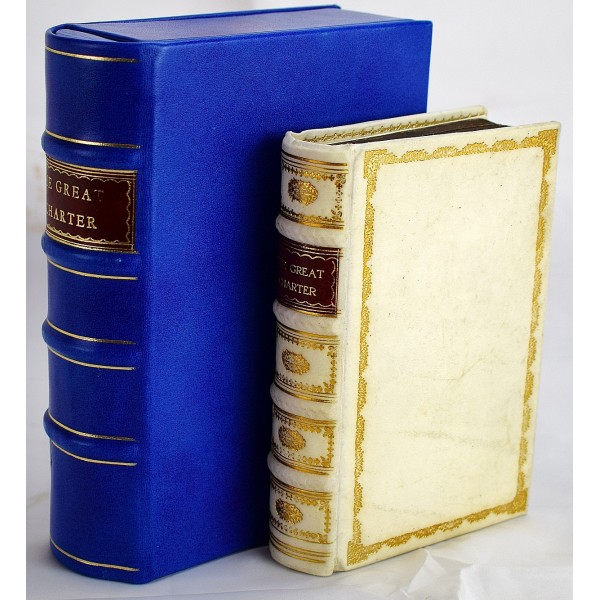 The Great Charter Called in Latyn Magna Carta: with Diuers Olde Statutes Whose Titles Appere in the Next Leafe Newly Correctyd. Cum Priuilegio. ad Imprimendum Solum
George Ferrers
London : In Fletestrete by Elisabeth wydow of Robert Redman, 1541
[Magna Carta] The second edition of the Magna Carta in English after Redman's 1534 edition. Fine modern vellum binding.  Gilt stamped borders, spines compartments and dentelle. Four spine bands. Hand-made, marbled end pages.  Red moroccan spine label.  Housed in custom-made royal blue leather clam shell box.  The box is lined with Tyrian purple colored velvet.  Collated: ccxi, [5] leaves. Bound in modern vellum. Gilt spine and rule. 4 raised bands. Housed in a custom blue leather clamshell case. 16mo. 14 cm. Soiling to margins. Old dampstain to majority of pages. Lacking first 4 preliminary leaves. Marginal chip to ff. xiv, xxxii, and Cv, Clxxxix, and last few leaves, tear to printed area of last leaf. A few pages with old ink underlining.  This edition was produced by Elizabeth (Pickering) Redman (1510-1562), the first female printer in London whose works survive.  Elizabeth Pickering was the widow of Robert Redman, who took over her husband's printing press upon his death in October 1540. 
Beale S11; STC 9275. A List of Additions Made to the Collections in the British Museum in MDCCCXXXIV, Vol. 4, p. 76. Lowndes, p. 1449.  Barbara Kreps, "Elizabeth Pickering: The First Woman to Print Law Books in England and Relations within the Community of Tudor London's Printers and Lawyers," Renaissance Quarterly 56:4 (2003), 1053-1088.  
A foundational work in Anglo-American law.  The Magna Carta, or Great Charter, was one of the first legal limits to power of kings and represents a significant milestone in the development of individual rights and constitutional protections.