The Collected Works of Bartolo da Sassoferrato: Opera Omnia (9 volumes)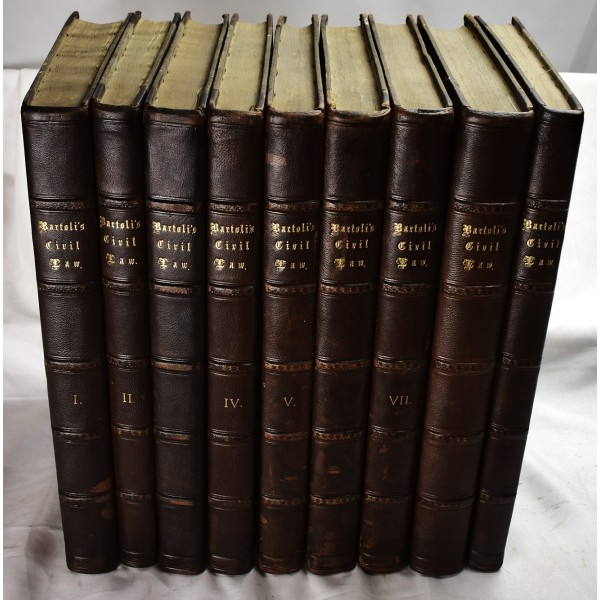 The Collected Works of Bartolo da Sassoferrato: Opera Omnia (9 volumes)
Bartolus de Saxoferrato; Bartolo da Sassoferrato; Petrus Paulus Parisius
[Eredi di Luca Antonio Giunta il vecchio, Gabriele Giolito De Ferraris, Ottaviano Scoto il giovane e Federico Torresano] (1556-1557)
[Bartolo's Foundational Work in Civil Law: 16th Century Italian Printing] 9 volume set. Folios, 43.5 x 29 cm. Bound in early 20th century 1/2 leather over cloth boards. Gilt spine lettering. A few minor scrapes, scuffs to spine leather. Bindings sound. Four of the volumes have engraved title pages. Historiated letters. Margins are very wide. Internally, the pages are generally clean, with occasional marginal dampstaining (mostly to v.9). Collation: 242; 176; 214; 210; 194; 284; 213; 216 + [18]; 162 leaves.
Contents: [v. 1]: In primam Digesti vet. partem commentaria iurisconsul; 242 leaves; [v. 2]: In secundam Digesti veteris partem commentaria iurisconsul, 176 leaves; [v. 3]: In primam Inforiati partem commentaria; 214 leaves; [v. 4:] In secundam Infor. partem commentaria; 210 leaves; [v. 5]: In primam Digesti novi partem commentaria iuriscons; 194 leaves; [v. 6]: In secundam Digesti novi partem commentaria iuriscons; 284 leaves; [v. 7]: In primam Codicis partem commentaria, 213 leaves; [v. 8]: Consilia quaestiones, et tractatus. Cum additionibus Bernardini Landriani; 216 + [18] leaves; [v. 9]: Reperto. in lecturas Bartoli. Index, seu Repertorium singulare in lecturas; 162 leaves.
Bartolus de Saxoferrato (1313-1357) was a highly influential Italian jurist, specializing in civil law. As the adage goes: "Nemo bonus iurista nisi bartolista" - no one is a good jurist unless he is a Bartolist. Bartolo is known as the most prominent member of the Postglossator or Commentator legal school, which represented the apogee of Medieval Roman Law. The Postglossators interpreted Roman texts for their contemporary audiences. Bartolus's writings helped bridge the gaps between Justinian and Roman codes with the realities of Medieval Italy. He extracted general principles from the Roman texts (Corpus Juris Civilis) that could be applied in novel situations. (See Cecil Woolf's Bartolus of Sassoferrato: His Position in the History of Medieval Political Thought [Cambridge, 1913] for additional information.) Bartolus's writings were fundamental for generations of continental medieval jurists. He is said to have influenced some English legal thinkers, such as Alberico Gentili and Richard Zouch.
This is an oversized or heavy book, which requires additional postage for international delivery outside the US.