A Booke Of Entries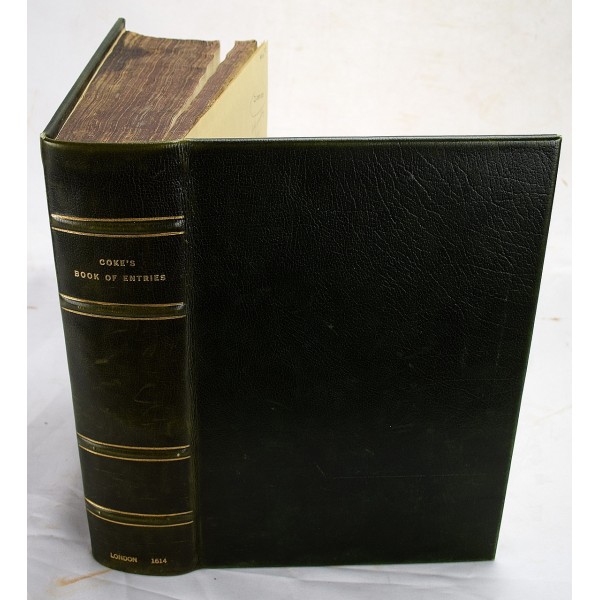 A Booke Of Entries
Edward Coke, Sir
London, Printed [by Adam Islip] for for the Societie of Stationers, 1614
[Origins of English Common Law] Thick folio, 33 cm. Bound in modern green calf. Fine binding and cover. Gilt ruled spine compartments. Text printed in two columns, in black letter. 9 preliminary leaves, 713 leaves, [17] pages. Two holes in title page (inscription removal). Internally generally clean and unmarked. Prefaces in Latin and English, text in Latin; index in French. Early signature on front end page from 1686. STC 5488.
Coke (1552-1634) is best known for supporting concepts of common law, restricting royal powers, attempting to curtail the Star Chamber during the time of James I, and authoring the Petition of Right (A precursor to the Bill of Rights in which Parliament restricted the finances of Charles I, and asserted the supremacy of common law to royal prerogative). Coke's Book of Entries collected pleadings as a guide to lawyers. The volume was intended as a supplement to Coke's Reports.
Extended title: "Containing Perfect and approued Presidents of Counts, Declarations, Informations, Pleints, Inditements, Barres, Replications, Reioynders, Pleadings, Processes, Continuances, Essoines, Issues, Defaults, Departure in despite of the Court, Demurrers, Trialls, Judgements, Executions, and all other Matters and Proceedings (in effect) concerning the practique part of the Laws of England, in actions Reall, Personall, and Mixt, and in Appeales; necessarie to be knowne, and of excellent use for moderne practise of the Law, many of them contayning matters in Law and points of great learning: And none of them imprinted heretofore. Collected and published for the common good and benefit of all the studious and learned professors of the Laws of England"
This is an oversized or heavy book, which requires additional postage for international delivery outside the US.