La Historia D'Italia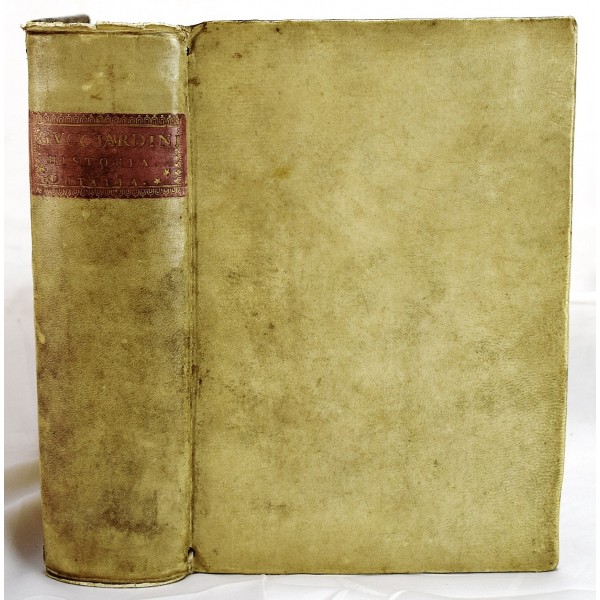 La Historia D'Italia
Francesco Guicciardini; Remigio Nannini
Venetia : Appresso Giovan Maria Bonelli, 1562
From the library of Hugo Grotius, inscribed by his hand on bottom verso of title page. Quarto. [24], 470, [8] p. ; 22 cm, Printers devices, engravings. Full vellum binding with leather spine label. Marbled pastedowns. Page ends colored dark blue. Good binding and cover. Soiling to boards. Chipping to the head of vellum spine. Indentation on title page of 3 small stamps removed. Contemporary repair by printer to tail of title page. Written in contemporary ink, with rust occurring in some parts: Ex Libris Hug. Grotii on bottom corner of title page verso. Scattered foxing, with light toning occuring, otherwise very good internally.
The first edition of this work was published in Florence in 1561, under the care of the author's nephew, Agnolo Guicciardini, and contained sixteen books only; the last four being unfinished, the editor hesitated to publish them and they were not printed until 1564. The present edition, like the first, contains only sixteen books, covering the years 1490-1526.
Francesco Guicciardini was a noted writer of Italian political history in the 16th century. His use of government documents to help write his history was an advance in historiography. Guicciardini served Florence as an ambassador to the Papal States, the court of Ferdinand of Spain, and was active with the Medici regime. Guicciardini wrote the history of Italy for posterity. His analysis and interweaving of political dynamics gives the work lasting relevance.
Hugo Grotius was a jurist in the Dutch Republic. With Francisco de Vitoria and Alberico Gentili he laid the foundations for international law, based on natural law. He was also a philosopher, theologian, Christian apologist, playwright, historiographer, poet, statesman and diplomat.