L'Etruria Pittrice Ovvero Storia Della Pittura Toscana Dedotta Dai Suoi Monumenti Che Si Esibiscono In Stampa Dal Secolo X (2 volumes)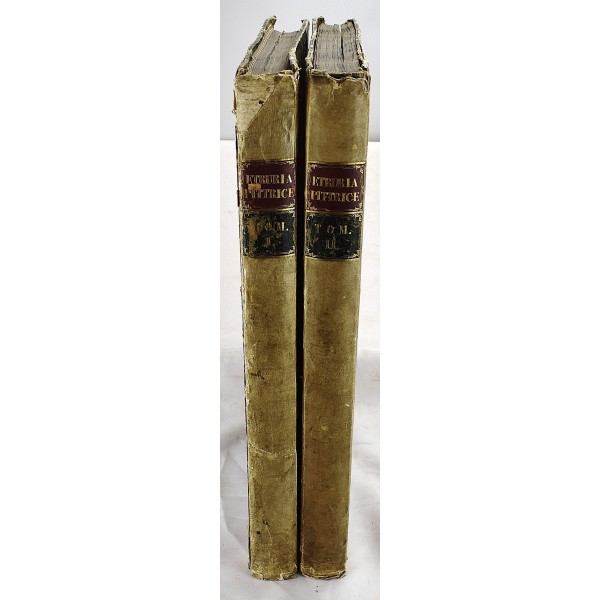 L'Etruria Pittrice Ovvero Storia Della Pittura Toscana Dedotta Dai Suoi Monumenti Che Si Esibiscono In Stampa Dal Secolo X (2 volumes)
Marco Lastri; Giuseppe Bardi, Publisher Of Florence.; Niccolo Pagni; Barthelemi Renard
Florence: Niccolo Pagni and Giuseppe Bardi, 1791 & 1795

[A Monumental Work of 18th century Italian engraving] 2 volumes. Large folios, 51 x 35 cm (19 3/4 x 13 in). 1st edition. Bound in contemporary 1/2 vellum over marbled boards. Some cover wear. Rear joint of v.1 cracked. Hinges of v. 2 cracked. Text in Italian and French, printed in parallel columns. Collation: v.1 Engraved title, frontispiece, 64 leaves, 60 plates. v.2 Engraved title, 62 leaves, 60 plates. Many of the plates are printed in colored ink: siena, shades of brown, or green and blue. 120 artists' portraits.
A gorgeous and large format work on Tuscan painting, beginning with Guido da Siena, and considering all the great painters of Florence, such as Buffalmaco, Cimabue, Giotto, Paolo Uccello, Andrea Verrocchio, Masaccio, Fra fifilppo Lippi, Andrea del Castagno, Pollaiolo, Botticelli, Leonardo da Vinci, Michelangelo, Andrea del Sarto, Antonio Tempesta, Giuseppe Grisoni, etc. Carlo Lasinio (1759-1838) was responsible for many of the engravings. Other engravers included: Giovanni Francisco Ravenet, Marco Lastri, Giuseppe Bardi, Niccolo Pagni, Matteo Carboni, Ferdinando Gregori, Gaetano Vascellini, and Cosomo Colombini.
Refs: "Pregevole opera," Cicognara, 3387. Cohen-Ricci 366. Thieme-Becker XXII, 404. Brunet II, 1095. Graesse, II, 509. Moreni, I, 509: "Ciascuno di questi volumi racchiude 60 articoli di notizie di altrettanti pittori toscani scritti in italiano da M.L., promotore di questa eccellente impresa, e tradotti in francese da Bartolomeo Renard. Ognuno di essi ha una stampa incisa in rame scelta dalle Opere le piu stimate di quel pittore." <br> Armorial bookplates of Paul Beilby Thompson (1784-1852). Thompson was a Whig MP for Wenlock and East Riding; later made a Baron. <br> This is an oversized or heavy book, which requires additional postage for international delivery outside the US.