[JOHN HANCOCK's COPY] A View of the Present State (Volume 1) of Derbyshire [SIGNED]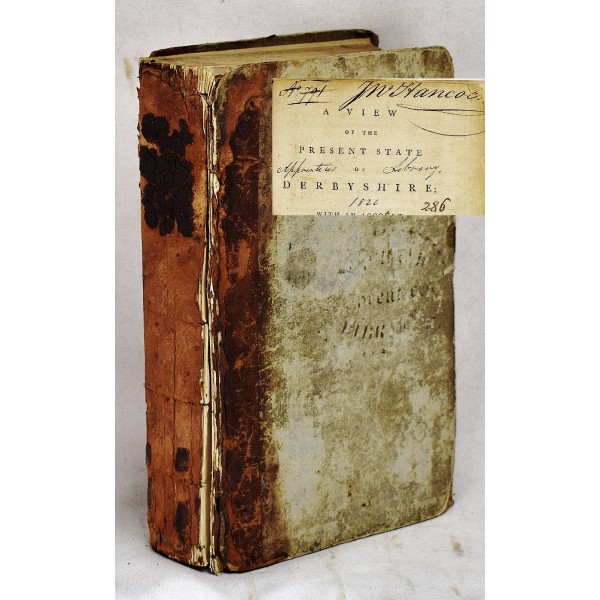 [JOHN HANCOCK's COPY] A View of the Present State (Volume 1) of Derbyshire [SIGNED]
James Pilkington
Derby : Printed and sold by J. Drewry ; sold also by J. Johnson ; and J. Deighton, London, 1789
[JOHN HANCOCK'S COPY] Signed by John Hancock on title page, ''Jn Hancock," with a partial flourish beneath it.  Signature is missing part of the K.  The signature is almost identical to the Hancock signature sold by Christie's in 1976 and Dec. 9, 1998, Lot 86. Also, Hancock's copy of the works of Epictetus at Houghton Library, Harvard University, bears the same Jn. Hancock signature.  John Hancock was one of the most famous signers of the Declaration of Independence, an important patriot in the American War for Independence, as well as Governor of Massachusetts.  
Volume 1 only. Bound in contemporary, worn boards, with a leather spine. Front board detached, leather dry.  Large folding map in front, scotch taped.  Viii, 496 p.  Later signature on title of the Apprentices Library, 1820.  
Early stamps of the Mechanic Apprentices Library Association (1820-1892) of Boston, Massachusetts. Presumably, Hancock's copy was donated to the Association after his death in 1793.  The Apprentices' Library disbanded in the 1890s and its books were dispersed. "Among the early donors were Governor Gore, Mr. William Phillips, [and] Admiral Sir Isaac Coffin. ... The merchants of Boston gave a valuable set of Rees' Cyclopedia." John Adams offered a donation in 1820. In 1844 Daniel Webster, as president of the Boston Society for the Diffusion of Useful Knowledge, gave $500 "for the purchase of books." Other donations were encouraged, for instance in local newspapers: "The mechanic apprentices of Boston desire information. They have not, of themselves, the means to possess it. Will our liberally-disposed citizens give it to them?"  This volume also has two manuscript signatures from the Association.  A later hand has written that this came from John Hancock's library on the front end page.