Jacob Lawrence, American Painter (Signed)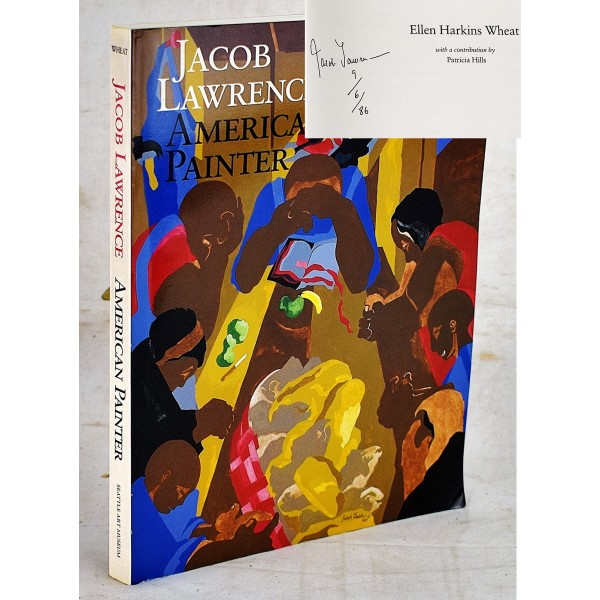 Jacob Lawrence, American Painter (Signed)
[Lawrence, Jacob] Wheat, Ellen Harkins; Hills, Patricia; 190 Color & b/w Illustrations (chiefly b/w photographs) [Illustrator]
University of Washington Press, 1986
Flat signed by Jacob Lawrence on title page. From the library of Dr. Ralph Gomes, Howard University. Softcover. Good binding and cover. Minor shelf wear. Light creasing. Clean, unmarked pages.
Dr. Gomes was a professor at Howard University for 49 years in sociology and criminology. He was also a former Olympic athlete, representing Guyana in the 1960 Rome summer Olympics. Besides his scholarly work, Gomes was active in the black liberation movement. He had an impressive and deep collection of black art, historical advertising and iconography that spoke of the passage of black people and how they sought to record their life stories. His collection spanned from slavery, to antebellum life, to Jim Crow, to the Harlem Renaissance, to sport, to the civil rights movement. <br> "Jacob Armstead Lawrence was born in Atlantic City, New Jersey, in 1917. The son of Southern migrants, he moved with his mother and sister to Harlem in 1930 at age 13. There, during his participation in community art workshops, Lawrence quickly discovered his love of art through the encouragement of teachers such as painter Charles Alston. Throughout the 1930s, Lawrence's art was inspired by the cultural visionaries of the Harlem Renaissance. In 1938, Lawrence had his first solo exhibition at the Harlem YMCA and started working for the WPA Federal Art Project. In 1940, he received a grant from the Rosenwald Foundation to create a 60-panel epic, The Migration of the Negro (now known as The Migration Series); when the series was exhibited at Edith Halpert's Downtown Gallery the following year, the then 23-year-old artist catapulted to national acclaim. In the ensuing decades, Lawrence continued to create paintings drawn from the African American experience as well as historical and contemporary themes, such as war, religion, and civil rights. He taught with Josef Albers at Black Mountain College in North Carolina in 1946 and later at the Skowhegan School of Painting and Sculpture in Maine. He moved to Seattle in 1971, teaching at the University of Washington until 1983. During his later years, Lawrence worked in a variety of media, including large-scale murals, silkscreen prints, and book illustrations. Until his death in 2000, Lawrence honed a unique visual language of abstraction that remained steeped in the human condition." - Phillips Collection
This is an oversized or heavy book, which requires additional postage for international delivery outside the US.