Iglesias de Mexico [I-VI] (6 volumes)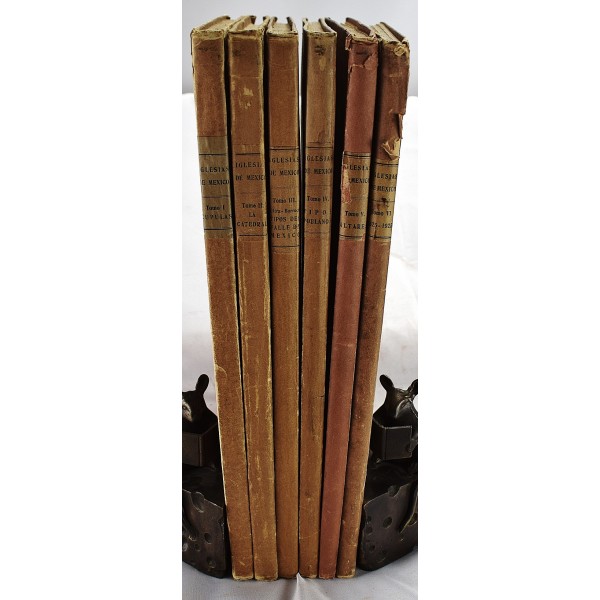 Iglesias de Mexico [I-VI] (6 volumes)
Dr. Atl (Gerardo Murillo); Kahlo, Guillermo; Toussaint, Manuel; Benítez, J. R.
Publicaciones de la Secretaria de Hacienda - Editorial "Cvltvra", 1924
6 volume complete set. Printed 1924 - 1927. Folio; 41 cm. Bound in publisher's brown pasteboards. Numerous mounted plates, color and half-tone. Scattered foxing. Library stamps on end pages.
Contents: Tomo I: Cupulas. Tomo II: La Catedral de Mexico. Tomo III: Ultra - Barroco Tipos del Valle de Mexico. Tomo IV: Tipos Poblanos. Tomo V: Altares. Tomo VI: 1525 - 1925. Cuatro mapas y grafico plegados. One of the most comprehensive and detailed works on the architecture and art of the churches of Mexico. Photography by Guillermo Kahlo, the father of the painter Frida Kahlo. Palau 118025. Provenance: From the collection of United States Ambassador Alexander Weddell (1876-1948) and his wife Virginia Chase Steedman Weddell (1874-1948). Weddell served in the US foreign service in Mexico city in 1928 and presumably purchased the set there.
This is an oversized or heavy book, which requires additional postage for international delivery outside the US.