History of Engraving in England. English Engraving XVI to XIX Century. Illustrated by One Hundred Typical Examples Reproduced from Rare and Unique Prints in the British Museum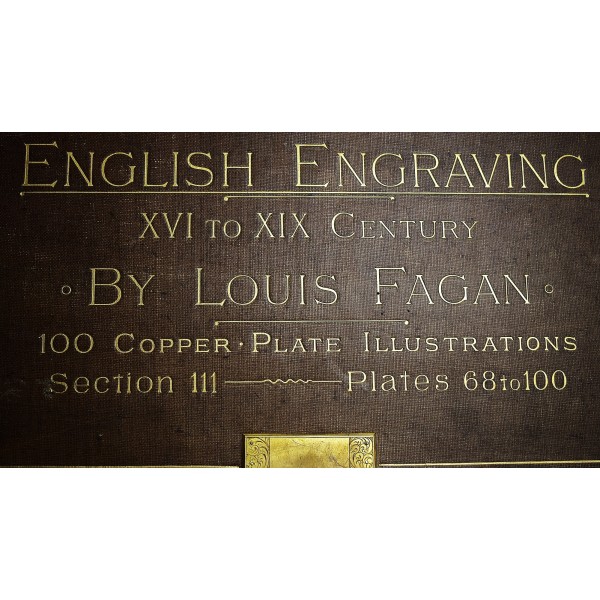 History of Engraving in England. English Engraving XVI to XIX Century. Illustrated by One Hundred Typical Examples Reproduced from Rare and Unique Prints in the British Museum
Louis Fagan
London: Sampson Low, 1893
3 volume set. 100 copper plate engravings. Unbound, as issued. Original cloth atlas portfolio cases included, but broken and split at edges. Pages very brittle, with some outer margins chipped, notably to plates XLII and XLIII. Library perforated stamps on the margin on each plate. This being said, the images themselves are white, clean and bright (though probably best suited for framing). Each plate has an introductory text page for the artist and an individual text page for the plate. Most plates have their original tissue guards.
Artists / plates include: Part 1: Remigius Hogenberg, Renold Elstracke, William Rogers, Crispin Van De Passe, Simon Van De Passe, Francis Delaram, John Payne, William Marshall, Robert Vaughan, William Faithorne, Richard Gaywood, David Loggen, Prince Rupert, William Sherwin, Robert White, George Vertue.; Part 2: John Faber Jr., William Hogarth, Luke Sullivan, James Mcardell, Robert Strang, Edward Fisher, John Fineyson, William Woolett, William Wynn Ryland, Valentine Green, James Watson, Richard Earlom, Robert Dunkarton, William Dickenson, William Sharp.; Part 3: J.K. Sherwin, John Raphael Smith, William Blake, Francis Hayward, Thomas Cheesman, Peltro William Tompkins, Samuel William Reynolds, Francis Engleheart, Abraham Raimbach, Charles Heath, Richard Golding, William Fineman, Edward Francis Fineman, William Ensom, John Henry Robson, Robert Graves, James Ward, George Thomas Doo, Samuel Cousins.
Fagan had worked at the British museum in the print department and thus had access to the originals. <br> Scarce, only 4 listed in American libraries (Folger, National Gallery of Art, Harvard, Boston Athenaeum). <br> International buyers: Please contact us before purchase, as this set is large and heavy and may require additional cost for postage.