Historiae Naturalis de Quadrupedibus Libri: Cum Aeneis Figuris [AND} De Piscibus et Cetis (Volumes 1 & 2)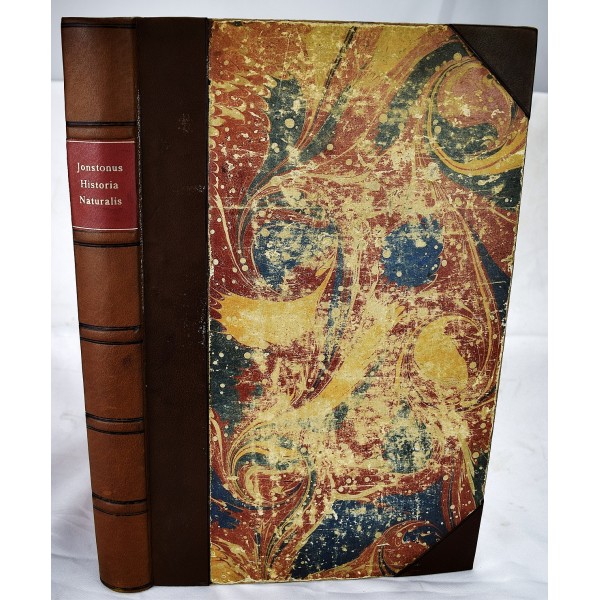 Historiae Naturalis de Quadrupedibus Libri: Cum Aeneis Figuris [AND} De Piscibus et Cetis (Volumes 1 & 2)
Jan Jonston; Pietro Castelli; Jan Jacobsz Schipper
Amsterdam : Apud Joannem Jacobi Fil. Schipper, 1657
[De quadrupedibus, On Quadrupeds [AND] De piscibus et cetis, On Fishes] Two volumes bound together. Libri I and V. Folio, 14 x 8 1/2 inches. Contemporary marbled boards, rebacked with fine modern, 3/4 leather. Strong binding and cover. [8], 163 p. + [2], 160 p. Engraved title. Quadrupeds section illustrated with approximately seventy-nine engravings (some duplicates, some added plates from other publications); the section on fish and whales illustrated with approximately forty-seven engravings (numbered to forty-five, some added plates); the added plates are pasted on the versos of the existing illustrations. cf. Nissen ZBI 2131-2135; Nissen IVB 481. Graesse, III, 477.
"First issued in Frankfurt in 1650-57, this famous compendium of the animal kingdom was considered the standard zoological encyclopedia of its era... Finely engraved, carefully detailed, and often featuring a touch of whimsy, these are among the most pleasing zoological plates produced in the 17th century." - Bonhams, 2016.
This is an oversized or heavy book, which requires additional postage for international delivery outside the US.