Histoire Generale des Choses de la Nouvelle-Espagne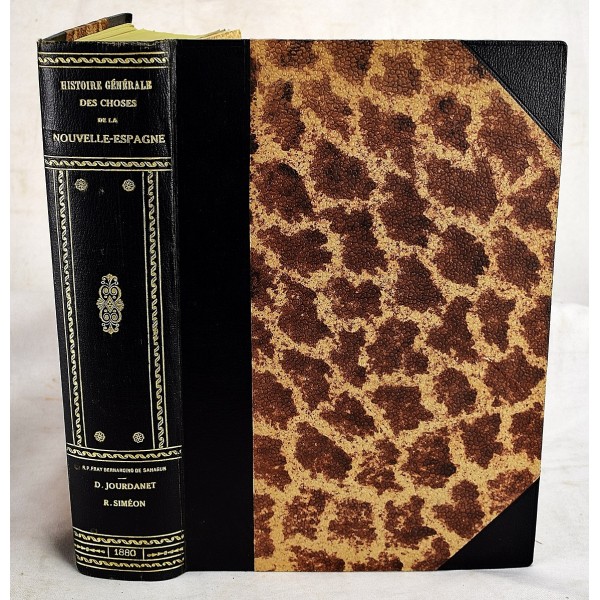 Histoire Generale des Choses de la Nouvelle-Espagne
R. P. Fray Bernardino de Sahagun; D Jourdanet; Remi Simeon
Paris : G. Masson, 1880
Bound in 3/4 black cloth over spotted leather. Gilt lettering. Hardcover. Good binding and cover. Shelf wear. Light water damage. Owner's name on front end page, else unmarked. lxxix, [1], 898 pages : color map ; 28 cm.
"First complete translation of the history of Mexico by the Spanish missionary and ethnologist and members of the Franciscan order Bernardino de Sahagun (1505-1590). His twelve-volume Historia general de las cosas de Nueva Espana is the most important source on the life of the Aztecs in Mexico. Sahagun had written the work bilingually in Spanish and Nahuatl, but was not allowed to publish it after its completion in 1569. The Spanish Inquisition had banned all writings in the Indian languages ​​from 1575 through the Real y Supremo Consejo de Indias, for fear that the myths, ceremonies and customs described could spread and against which the conquerors could direct. However, Sahagun disregarded this prohibition by handing his Gonner Fray Rodrigo de Sequeira a copy of his work in 1577, which however mysteriously disappeared. However, Sequeira was able to smuggle another copy to Spain in 1580, which was only published in part in the following years, until 1880 with the present edition of the Jourdanet, the first complete publication of the then politically highly explosive and to this day culturally and historically highly interesting work could be organized. - Only very isolated, minimally stained, generally well-preserved, uncut copy."
This is an oversized or heavy book, which requires additional postage for international delivery outside the US.