Grande Geographie Bong Illustree en 3 Tomes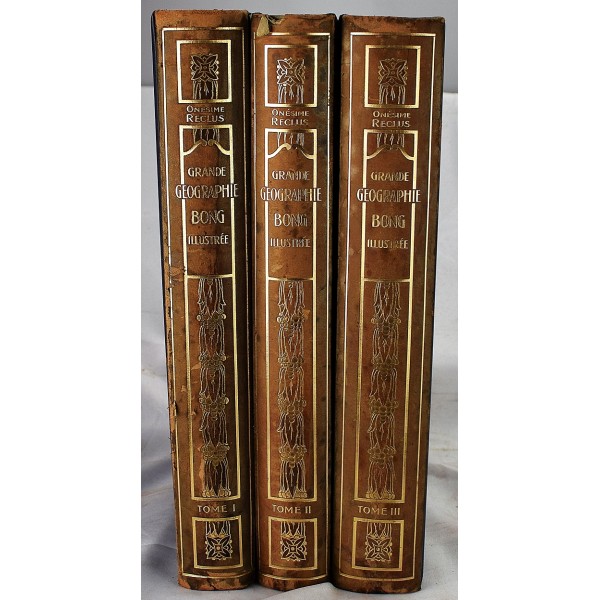 Grande Geographie Bong Illustree en 3 Tomes
Onesime Reclus
Maison D'Edition Bong & Cie, 1911
3 volumes. 38 x 31 cm. Gorgeous, heavily gold adorned covers. Bound in publisher's leather backed blue boards. All edges blue. Hardcover Good bindings and covers. Clean, unmarked pages. Profusely illustrated with color maps and plates.
Includes: Tome 1: Royaume-Uni, France, Belgique, Hollande, Italie, Espagne et Portugal; Tome 2: Allemagne, Autriche-Hongrie, Suisse, Rusie d'Europe, Grece, Montenegro, Serbie, Roumanie, Bulgarie, Turquie d'Europe; Tome 3: Scandinavie, Siberie, Asie occidentale turque et arabe, Asie interieure, Perse, Chine, Mantchourie, Inde, Péninsule Indochinoise, Japon, Inde neerlandaise. 371 + 366 + 448 p.
This is an oversized or heavy book, which requires additional postage for international delivery outside the US.