Genealogie Joannis Boccatii: Cum Demonstrationibus in Formis Arborum Designatis. Daran: De Montibus, Silvis, Fontibus, Lacubus, Fluminibus, Stagnis seu Paludibus, de Nominibus Maris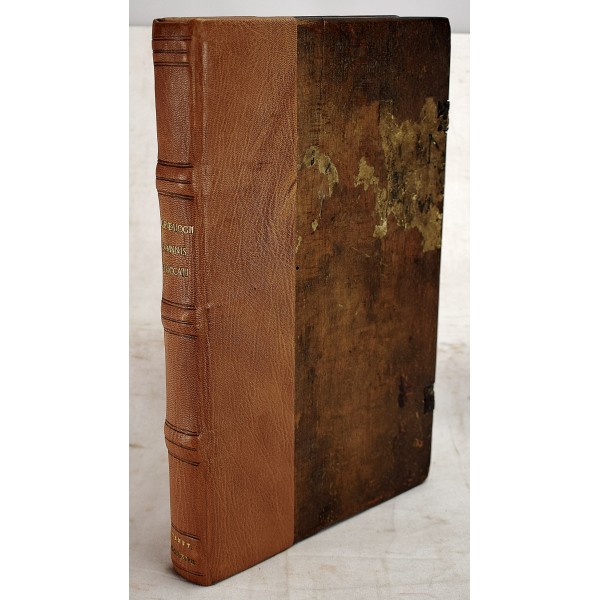 Genealogie Joannis Boccatii: Cum Demonstrationibus in Formis Arborum Designatis. Daran: De Montibus, Silvis, Fontibus, Lacubus, Fluminibus, Stagnis seu Paludibus, de Nominibus Maris
Giovanni Boccaccio; Domenico Silvestri
Venice: Manfredus de Bonellis, de Monteferrato, 1497
[Incunable] Folio, 33 cm. Bound in handsome, modern 1/4 oasis goatskin over wooden boards. Linen-silk end joints. Front board is older wood and has the remnants of the metal claps. 152 leaves (of 161 called for). Lacking gathering g and h1 (9 leaves). 62, 63 lines to a page. Engraved letters. 12 engraved genealogical plates. Title page washed and with minor, professional restoration work. Some minor staining (primarily to colophon page). Early marginalia.
Includes a related letter with an old invoice and details of the restoration work from M.A. Thornton of Traditional Bookcrafts, Wigtown, Scotland.
Refs: Hain/Copinger 3324. Pell-Pol 2470. Pol 713. IGI 1801. BMC V, 504 (IB. 23825). Goff B 754. IBP 1090. CIH 700. Sander 1078. Essling 800. Second illustrated edition, a reprint of the ed. by Octavianus Scotus in 1494.