Framed Photograph of U.S. Senator Robert F. Kennedy with Morton Bahr (Signed by Edward "Ted" Kennedy)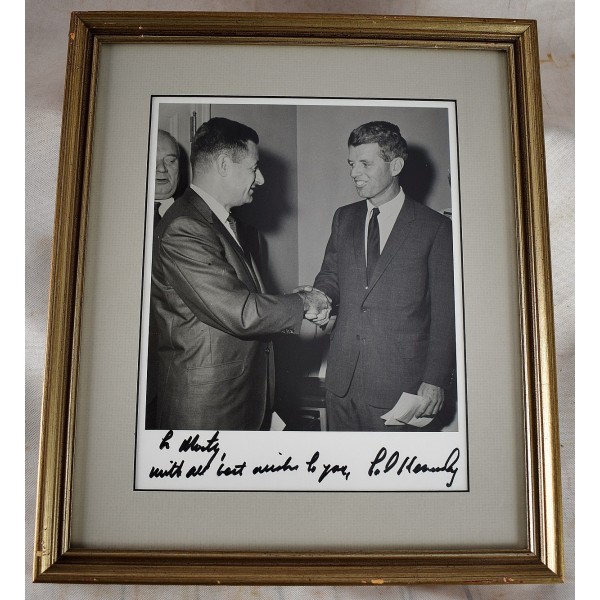 Framed Photograph of U.S. Senator Robert F. Kennedy with Morton Bahr (Signed by Edward "Ted" Kennedy)
Ted Kennedy
Circa 1966
[U.S. Senator Ted Kennedy Signed Photograph] Original signed/inscribed, framed photograph of Attorney General Robert F. Kennedy (Bobby Kennedy) with Morton Bahr (Morty). Signed by Robert Kennedy's brother Ted Kennedy. Framed, mounted, under glass. Dimensions of frame: 36 x 31 cm. Photograph dimensions: 25.5 x 20 cm. Minor nicks to frame, photo is in excellent condition. Inscription reads: "To Morty, with all best wishes to you, Ted Kennedy." Circa 1966. Image shows Bobby Kennedy shaking hands with Morty Bahr. Framed by Classic Framing & Art, Washington DC.
Ted Kennedy was an American politician who served as a U.S. Senator from Massachusetts for almost 47 years, from 1962 until his death in 2009. A member of the Democratic Party and the Kennedy political family.
Morton Bahr led the Communications Workers of America for 20 years and served as president of the Jewish Labor Committee from 1999 through 2001.