Film Culture (Magazine): 36 volumes. (Nos. 2-47; 1956 - 1969)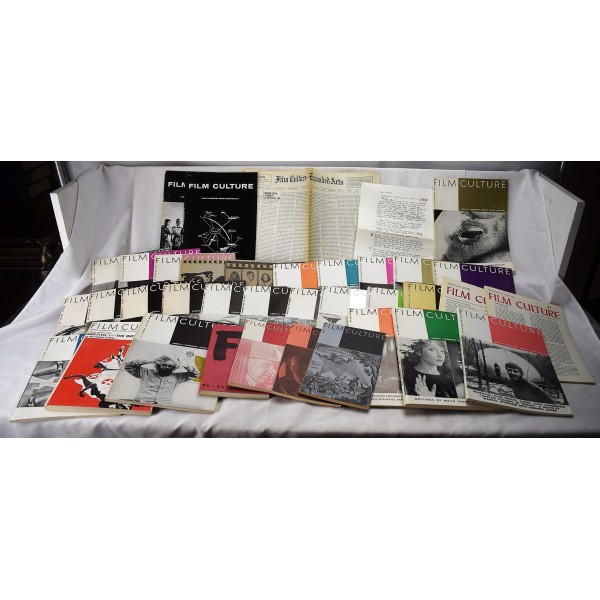 Film Culture (Magazine): 36 volumes. (Nos. 2-47; 1956 - 1969)
Adolfas Mekas; Jonas Mekas; P. Adams Sitney; George Maciunas; Stan Brakhage; Andy Warhol
Film Culture, 1956
[Large run of one of America's most significant voice for independent and avant-garde cinema.] 36 volume set, Feb. 1956 - Summer, 1969.
Containing: No. 2, issues 3-4; No. 3, issues 2-5; No. 4, issues 1-2, 4; Nos. 19-28, 30-47. Bound in publisher's wraps. Early issues stable-bound. A few interesting issues include: No. 30 (1963) devoted to the work of filmmaker Stan Brakhage (Fluxus issue); No. 36, (1965) special on D. W. Griffith's "The Birth of a Nation."; No. 45 (1967) is The Andy Warhol Issue; No.2, issue 2 (1956) includes an article on Kurosawa's Seven Samurai. All issues are in very good condition, without significant wear. Minor shelf wear.
Film culture was created in 1954 by Jonas and Adolfas Mekas and ran from 1955-1996. It was devoted to experimental and avant-garde American cinema.
This is an oversized or heavy book, which requires additional postage for international delivery outside the US.